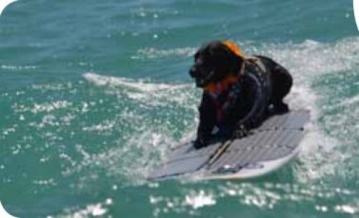 I covered the first annual "Surf's Up, Dog" in Jupiter. Small, medium and large dogs enjoyed hanging ten. Dogs of all colors, coats and breeds accompanied the record crowd. They frolicked on the bodacious beach and shimmied in the surf. Responsible owners brought plenty of water, bowls, bags, and towels. They pitched tents and umbrellas to provide respite from the beaming sun. I gladly witnessed numerous dogs having sunscreen applied. Black dogs are a magnet for the sun's rays, and overheat much faster than lighter colored dogs. It is imperative to keep a close vigil on them, and not let them overdo fun in the sun. The contest ended around noon, as I realized I left my flip-flops in the car. The sand felt like I was walking on scorching hot coals. Imagine how uncomfortable the dogs' paw pads felt.
Dog people like to bring their dogs to outdoor cafés, art shows and green markets.
Place the palm of your hand on the pavement for a few moments. Can you stand the heat? Painful damage can result from walking on hot surfaces.
To Shave, or Not? This time of year, I am always amazed to see dogs without their coats. Some of the things I've heard include, "She always get s a summer haircut", "He's shedding so much, we had to do something", "Shaving our dog makes them deal with the heat better". Summer cuts are very controversial.
Here are the facts: Unlike humans, dogs have no sweat glands. When they are overheated, they will pant, or may dig a hole to lie in with their belly on a cool surface. Your dog's coat serves a multitude of purposes, from providing protection from the sun to a layer of insulation along the skin, to being a bug deterrent. Coated breeds have less chance of injury from being bitten or scratched by another dog, even when at play.
Some groomers refuse to shave a doublecoated breed (like my aussies); they know it is not the right thing. Some groomers recommend a summer cut; they want your business. Realize your dog's coat may take two years to grow back in, and it may not be as soft. It could come back more coarse or even fuzzy.
Shaving may be an option when the dog has an excessive skin issue or parasite problem, if the dog is severely matted, or elderly and unable to be bathed as needed.
Wanna Go for a Ride? The mercury is rising, but you just have a quick errand. Unless you have another responsible human to stay in the car, with the air conditioning on, leave your dog at home. Even with the windows cracked, interior temperatures rise very quickly in the SoFla sun. It is just NOT worth the risk.
Every day we see dogs in cars, windows down, ears aflappin'. They look happy, catching an array of scents, sights and sounds. However, an airborne insect or particle can permanently damage an eye. A friend's mastiff accidentally pushed the window button, and jumped out of the car into traffic. Aside from a broken front leg, he was fine. The safest way to take your dog in the car is in a crate. In my case, with multiple dogs, that is not always possible. They are all on leads attached to their collars (with ID tags). For the health and safety of your dog, your passengers, and you, NEVER allow your dog (yes, even your small dog) loose in the vehicle.
I Toad You, Not Summer rain brings out the frogs, toads and snakes. Keep your pet under close supervision, even in your own yard. If your dog does have a close encounter with a bufo toad, calmy wipe the dog's mouth and tongue with a dry washcloth or paper towel, and call your vet.
Make sure your pet has fresh, room temperature water, at all times. Let's enjoy the rest of summer!