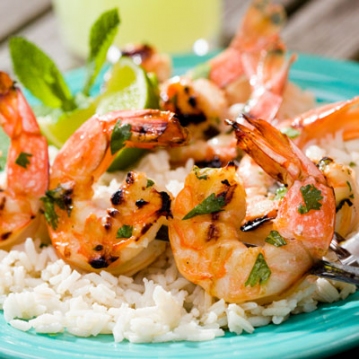 The summer months are perfect for grilling, so this is an awesome recipe that's not only healthy, but also simple to make and features flavorful Gulf Coast Shrimp!
Shrimp offers all the flavor of other grill favorites without the fat, so you can feel satisfied and stay on track to be swimsuitready. See below for the Grilled Citrus Shrimp recipe, and to learn how to properly prepare your shrimp for the grill with these three tips: Pick the right size – Choose the largest
Ingredients:
• 1 1/2 pounds fresh Gulf jumbo shrimp
• 1/3 cup fresh grapefruit juice
• 1/4 cup fresh orange juice
• 2 tablespoons fresh lime juice
Directions:
Peel and devein shrimp, leaving tails intact. Combine grapefruit juice, orange juice, lime juice, cilantro, mint, salt and pepper in shallow glass dish. Add shrimp; toss well. Marinate, covered in refrigerator for 30 minutes. Drain shrimp, discard marinade.
size possible, preferably jumbo or colossal. One pound of jumbo size will yield 12 to 15 shrimp, or 10 colossal. Smaller shrimp are prone to falling through the grill rack.
Clean them up – Many recipes recommend that you devein the shrimp. varieties, deveining large shrimp will help Though it is not as important with smaller avoid getting a gritty bite.
Get ready to grill – You can marinate or grill with or without the shells. To peel, simply cut the shell along the back with a sharp knife, removing all but the tail.
• 1/4 cup chopped fresh cilantro
• 1/4 cup chopped fresh mint
• 1/4 teaspoon salt
• 1/4 teaspoon pepper
Arrange shrimp evenly on 4 metal skewers. Spray grill rack with nonstick cooking spray. Place skewers on rack. Grill, with grill lid down, over mediumhot (350 to 400 degrees) coals for 3 minutes per side or until shrimp turns pink. Serve over cooked rice.