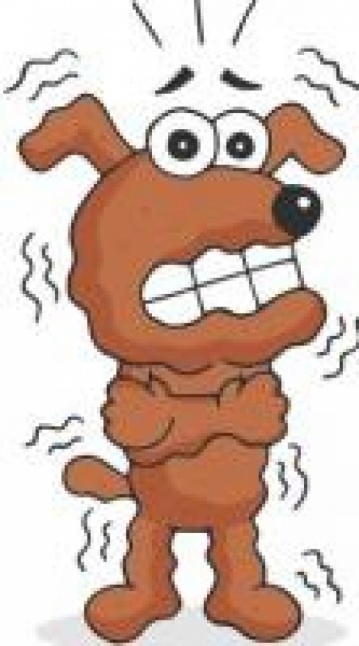 Did you know that dogs and cats can get pancreatitis? It is quite a common ailment caused primarily by poor diet (much like in humans). It can be prevented and remedied by improving the diet.
Of course one would still need proper diagnosis by their veterinarian, but in most cases is not necessary to administer strong drugs with many adverse side effects.
According to most holistic vets, high-fat and overly-processed foods are common culprits, so switching to a higher quality food is crucial. Some recommend that the dog should fast (refrain from feeding) for 24-48 hours in order for the organs to "recalibrate" or adjust themselves naturally. When feeding resumes, it should be a diet of primarily meat (whole, natural, not meat by-product) and no grains, corn or potato. Also you should try to limit the amounts of nutrient-rich vegetable and omega-rich oils. The ideal foods would be raw, freeze-dried raw or high quality kibble as a healthy and wise choice. As with any mammal, heavily-processed, nutrientvoid "foods" will only lead to poor health and illness.
Pancreatitis is most common in middle-aged or older dogs and cats - especially in pets who are fed diets high in fat, or are overly pampered and are fed too much junk food or poor quality treats.
So the consensus is, by holistic vet standards, that dogs with pancreatitis should be fed a low-fat, high-protein diet with no grain and small amounts of plant-based ingredients.
The term "biologically appropriate"(referring to the dog's ancestral diet) would indicate that feeding meats which are the natural choice of carnivores should provide most of the nutrients needed by the organism. If the animal is compromised (ill), then the diet needs to be even more specific. We recommend lower fat meats for dogs with pancreatitis... Chicken, turkey, rabbit, eggs are good examples of low fat foods. Dogs with pancreatis should avoid red meat, duck, lamb and all meat by-products.
There is a plethora of information to be gathered on this subject, and as always we recommend that you consult your vet. Being holistic-minded and nutrition-conscious, we also recommend that all of us (humans and pets alike) eat the most natural, least processed, most appropriate foods for our respective species and avoid "junk food" like the plague!
For Free Diet & Nutritional pet advice and a great selection of raw, grain-free foods and high quality treats and herbal supplements come visit us at the Paw Depot! We are happy to help with all of your pet's needs!