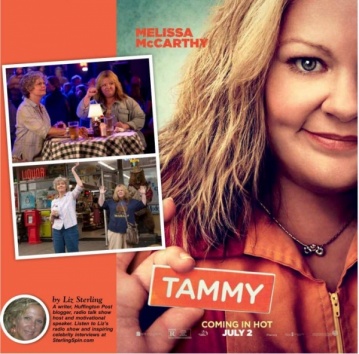 Doesn't it feel good to Illinois, McCarthy began her performing career as a stand-up come- laugh? You know that big, out loud dian in New York where she appeared belly laugh that starts at the famous clubs, Stand Up New as a giggle and ends York and The Improv. She worked in a rolling thunder of on her acting skills at The Actors hilarity. Lucky me, I get to bring you the uproarious Melissa McCarthy interview this month. I can promise, when you see her new film, Tammy, you will be laughing too. It will be released on July 2, 2014, just in time for Independence Day. If there is anything you are looking to get a new perspective on or to liberate yourself from the doldrums that sometimes creep into life, you now know where to go. Set aside some time to laugh with Melissa and treat yourself to a few hours of FUN!
And while on the subject of fun, it's June and love is in the air along with weddings, graduations, sunshine and wildflowers. How about taking the lead from Melissa and declaring this month to be filled with happy- golucky events and experiences that make your sing out loud and let me know about your fun times:sterlingspin@gmail.com.
Melissa Ann McCarthy will celebrate her 44th birthday on August 26th. A farmer´s daughter from Studio and appeared in many stage productions in the city before moving to Los Angeles in the late-1990s. She made a number of TV and movie appearances before making her big breakthrough as Sookie in Gilmore Girls in 2000. A steady stream of comedy performances followed, leading to her starring role in the sitcom Mike & Molly 2010 which garnered a Primetime Emmy Award for Outstanding Lead Actress in a Comedy Series. McCarthy achieved major success and fame for her breakthrough film role in the 2011 comedy hit Bridesmaids, in which she was nominated for an Academy Award for Best Supporting Actress. In 2013, she co-starred in the films Identity Thief and The Heat with Sandra Bullock. Sandra and Melissa bonded on the film and have forged a deep and lasting friendship. They are both raising families and feel strongly about their values. But being in the public eye has it price to pay and both spoke out about the problems created in the world."
by fame and paparazzi…and L.A. Bullock and McCarthy shared their viewpoints:
Bullock: "We're adults, and we're fair game—not that I like being photographed going in and out of my kids school in my sweatpants. But I instinctively throw things over Louis's head….He doesn't like the paparazzi. He gives them the stinkeye, and they're like, 'That's such an angry kid,' but I look at them and say, 'Only when you guys are around'…I don't raise Louis in Hollywood. I raise him in my world. To me the good thing about living in L.A. is diversity in lifestyle choices, color, and religion. I want Louis to look around and see every color under the sun. I also have the luxury of splitting my time between L.A. and Austin."
McCarthy:"Strangers shouldn't be allowed to take a picture of your child and sell it for profit. They think, 'We're putting out a product,' but you're putting out a child….Ben and I have absolutely nothing to do with the Hollywood that's all actors and the Sunset Strip. We crave talking to people who do different things and are passionate about it. We have some of the most rock-solid, lovely friends Ben Falcone and Melissa Mccarthy were married in October 2005. They have two children; Vivian who is six and Georgette who is four. "I believe it matters how you treat people and am lucky because I laugh my head off every day with my husband and my kids who are mooning me and singing me songs." Laugh out loud, sing to your heart's content and remember, have FUN, just because it's June!
Tammy Hits Theaters July 2, 2014 The New Line film, which the comedian co-wrote with her husband and director, Ben Falcone, tracks a woman´s incredibly terrible day: a totaled car, a cheating husband, and a harsh firing from her job. Check out the trailer online and have a laugh or two as you see McCarthy in the starring role of Tammy trying to return the money she stole by pulling up to the drive-through window, attempting to run from the cops (or a bee in her hair) and having a mix-up with Susan Sarandon about astronaut Neil Armstrong and biker Lance Armstrong.
The film also stars Allison Janney, Gary Cole, Mark Duplass, Toni Collette, Nat Faxon, Dan Aykroyd and Kathy Bates.