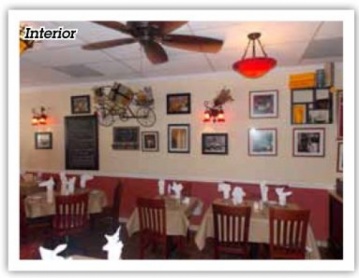 This charming Boca Raton restaurant brings to mind a time not so long ago when quality, service and style was as widespread as today's hum drum fast food experiences. At Pasta Fever, cooking is a disciplined art where the inventiveness and refinement of Chef Luigi Enriquez's classically modern cuisine shines through. Drawing upon his family's Italian heritage and his extensive experiences in Italy as well as leading restaurants in Miami and Los Angeles, the Chef is undoubtedly one of Boca's brightest culinary stars.
Impeccable service is provided by two accomplished waitresses, Suzy and Michelle, who supplied whatever information we thought relevant. While we perused the dinner and wine menus, they delivered a platter of crisp tomato laden bruschetta along with a saucer of scented olive oil and a basket of fresh baked bread.
Sparking crystal goblets, gleaming silverware and precisely folder napery decorate a dozen or so tables supplied with candles and condiments. Wall sconces and overhead chandeliers emit a soft red light that illuminates period photos, mirrors and prints. The overall charm is enhanced by an imaginative wall sculpture made out of thin rods depicting a bicycle bearing gifts.
The Chef's flair manifests itself immediately in the unique treatment of his starters. Escargot ($9.50) presents a cluster of tender mollusks heaped over a crunchy toast round. The ensemble is energized by a sublime rich sauce that enhances the flavor of each morsel. The Tomato Caprese ($9) delivers cuts of vibranttomato , fresh mozzarella, calimata olives, purple onions and a dusting of superlative aged balsamic drizzled over all the ingredients including clusters of fresh basil.
Wine is an indispensable adjunct to every great meal and this cellar draws heavily on imports, especially from Italy. Many labels are modestly priced and available by the glass. The Chef's featured wine this month is Villa di Campobello Chianti.
Every entrée we selected was an extraordinary feat. Snapper Francaise ($23.50) is a compelling creation featuring an exceptionally succulent filet sautéed with touches of white wine, butter and lemon, Veal Parmesan ($23.50) allows the delicate essence of the cutlet to shine through the gently seasoned tomato sauce and the fragrant mantel of mozzarella.
Rich, cool and crunchy, the mouthwatering Profiterole doused with homemade chocolate sauce walked away with the highest honors as did the satiny-soft luscious Chocolate Cake. The Chef's Sunset Dinners ($17.50) from 5 to 6pm and the Summer Menu ($25.50) offer extraordinary three course dinners. To learn more about Pasta Fever, log on to www. pasta-fever .com
---
4251 North Federal Highway • (Tel) 561-338-0012 • Closed Mondays