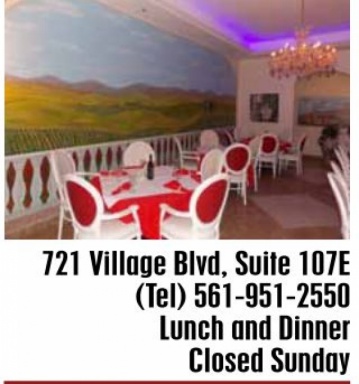 Cuisine and Ambiance Fit for a Medici Prince, Affordable by All
The illuminated sign, high top tables and plain glass front provide no clue to the elegance and style that lies within Café Toscano located in West Palm Beach. As soon as you pass-through the door, you enter a world of exquisite refinement. Dazzling frescos, a porcelain vase with a stunning portrayal of the Florentine Duomo plus other graphics and artifacts transform a long, airy space into a setting fit for your prince or princess.
Frank Patetta, proprietor of Café Toscano , has an immense hit on his hands. Imagine yourself in a palatial dining room overlooking a panorama of verdant Tuscan vineyards stretching as far as the eye can see. A nineteenth century crystal chandelier illuminates the room which glows with vibrant colors emanating from deftly placed recessed lighting. The striking white and red color scheme, echoed in the tablecloths, napkins and chairs, adds a vivacity that is electrifying.
The manager's greeting is prompt and friendly. The service of the smartly dressed staff is on par with any of the finest Palm Beach restaurants. Thursday evening is Opera Night and the quality of the performance by the supremely talented soprano Kristina Notghi is as close to perfection as you can get (music is available also on Wednesdays and the weekends).
As with the ambiance and the music, the quality of the food always achieves excellence. The Caprese Platter ($13.95) adroitly partners Buffalo mozzarella and prosciutto imported from Italy, luscious tomatoes, fragrant basil, a superb balsamic reduction and extra virgin olive oil. The Greek Salad ($6.95/$10.95) is a stirring mix of glorious greens, tomatoes, onion, olives, feta cheese and a splendidly crafted dressing.
For mains, we could not resist the signature Veal Porcini ($19.95), a prodigious platter of fork tender veal smothered with a sumptuous mantle of imported Italian porcini mushrooms bathed by a sauce full of rich flavors. Another culinary masterpiece, Grouper Toscano ($27.95), delivers a superbly sautéed filet complimented brilliantly with artichokes, sun dried tomatoes and al dente pasta suffused with a delectable lemon wine sauce. All entrees are served with a choice of soup or salad.
Enhance your dining experience with a variety of domestic and imported wines available by the bottle and the glass. The Café imports wine from its own winery in Italy.
Italy is also a source of the luscious Tiramisu, but we were equally impressed with a heavenly in house Apple Pie. Opulent cappuccinos provided the perfect finale.
Lunch at Café Toscano features an $8.95 buffet served from 11:30am to 5pm. Private catering is available for that special event which demands the very best. If pressed for time, you can call ahead for take-out. For more about this magnificent restaurant, log on to www.cafetoscano.us