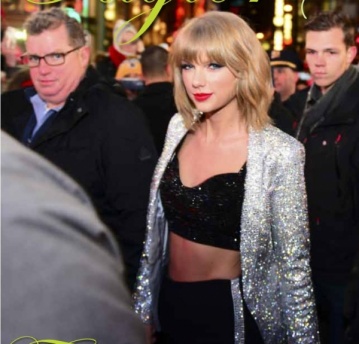 Taylor Swift was born on December 13,1989 in Reading Pennsylvania and spent most of her childhood on an 11 acre Christmas tree farm in Montgomery County, PA. She was named after James Taylor explaining, " My mom named me Taylor because she thought I would probably end up in corporate business and she didn´t want any kind of executive, boss, manager to see if I was a girl or a boy if they got my resume." Turns out she never needed a resume. Lucky Taylor! Swift´s first hobby was English horse riding. Her mother put her in a saddle when she was nine months old and only a few years later, she competed in horse shows. At the age of nine, Taylor turned her attention to musical theatre and performed in Berks Youth Theatre Academy productions of Grease, Annie, Bye Bye Birdie and The Sound of Music. She traveled regularly to Broadway, New York for vocal and acting lessons. However, after a few years of auditioning in New York and not getting anywhere, she became interested in country music.
At the age of eleven, after many attempts Taylor won a local talent competition by singing a rendition of LeAnn Rimes´s "Big Deal", and was given the opportunity to appear as the opening act for Charlie Daniels at a Strausstown amphitheater. She credits LeAnn Rimes as her main influence into a country music career. Swift stated on The Oprah Winfrey Show that she wanted to be a country singer after attending Rimes´ concert. Her music influences include Dolly Parton, Shania Twain, LeAnn Rimes, Patsy Cline, and her grandmother, who was a professional opera singer.
Taylor released her debut album "Taylor Swift" in October of 2006 and received positive reviews from music critics. The New York Times described it as "a small masterpiece of popminded country, both wide-eyed and cynical, held together by Ms. Swift´s firm, pleading voice". Her single "Our Song" made Swift the youngest sole writer and singer of a number one country song.
In September 2009, Swift became the first country music artist to win an MTV Video Music Award when "You Belong with Me" was named Best Female Video. Her acceptance speech was interrupted by rapper Kanye West, who had been involved in a number of other award show incidents. West declared Beyoncé´s video for "Single Ladies (Put a Ring on It)", nominated in the same category, to be "one of the best videos of all time". When Beyoncé later won the award for Video of the Year, she invited Taylor onstage to finish her speech. In November 2009, Taylor became the youngest ever artist, and one of only six women, to be named Entertainer of the Year by the Country Music Association. At the age of 20, Swift became the youngest artist in music history to win the coveted Grammy Award for Album of the Year.
Some interesting facts about Taylor that you may not know:
Most of her songs about her exes Her songs usually tell a story She loves to wear bright red lips Taylor wrote her hit song "Love Story" on her bedroom floor in 20 minutes.
She keeps a journal and writes about how her day went.
Swift is beginning to emerge as an acting talent, having voiced the role of Audrey in the animated feature The Lorax . She also made appearances in the theatrical release Valentine´s Day and in an episode of CSI: Crime Scene Investigation. She contributed two original songs to The Hunger Games 2012 soundtrack: "Safe & Sound featuring The Civil Wars" and "Eyes Open". Taylor released her 5th album, titled 1989, on October 27th, 2014. This album is when she finally made the complete transition from country to pop. The album is named after the year she was born. Many of us have watched Taylor Allison Swift rise up in her astonishingly successful career. She is someone who models great talent, uncompromising creativity and tenacity for being honest, kind and compassionate. She is refreshing and resplendent, much like the spring. Happy March to all our readers, especially YOU!
A writer, Huffington Post blogger, radio talk show host and motivational speaker.
Listen to Liz's radio show and inspiring celebrity interviews at SterlingSpin.com