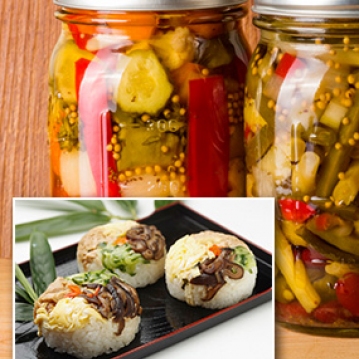 Mason Jar Salads & "Sushi" Balls
As you clean up the kitchen tonight, ask yourself, "What can I create from these foods to make something new and fresh for tomorrow's lunch?" Scan the pieces of cooked chicken, veggies and pasta and even the bits that fell to the bottom of the salad bowl to see what you may want to use to make your layered Mason jar salad! Next see what leftover pasta sauce, salsa or sour cream you have to make into a dressing. Once you have approximately a quarter of a cup of "dressing-sauce", place it into the bottom of a Mason jar or container with a secure fitting lid. Next, start layering chucks of meat, vegetables, pasta and rice until your jar is half full. Fill the top half with your favorite salad greens or raw spinach. Refrigerate the jar upright until 5-10 minutes before eating, then invert your jar to let the juices roll….
Another fun "Asian", sushi-style idea using leftovers is rice balls filled with diced pieces of meat, tempeh, avocado, cooked or raw veggies, hard or soft cheese and even hard boiled egg. Gently stuff the rice balls with your ingredients and pack into a container or baggie for easy packing. You'll be amazed what things have drifted to the back of the fridge!! Get adventurous… and while you're at it, dig out those little packets of soy sauce, sweet and sour. and hot mustard that end up in the bottom of everyone's "take out menu drawer" and throw them into your lunch bag for easy dipping!
---
Caron Barr is a Holistic Healthcare Coach who has worked in Palm Beach County for over twenty years. Caron is a Registered Nurse who became interested in natural medicine after several years of hospital work and eventually feeling the extreme signs of stress ( adrenal exhaustion). While HEALING herself she studied Alternative Medicine at Everglades University in Boca Raton, FL. It was there that she learned the tools to share her newfound passion. This lead her to a leading job at Hippocrates Health Institute where she worked with hundreds of guests helping them heal their bodies through plant-based nutrition and relaxation techniques. She is well versed in the diversity of people and health challenges South Florida brings.
Personalized Medicine is now in the forefront of healthcare. An individualized approach tailored to each of her client´s needs is a necessity in her work. Last year Caron founded Healing Housecalls, which brings her services into clients´ homes and offices.