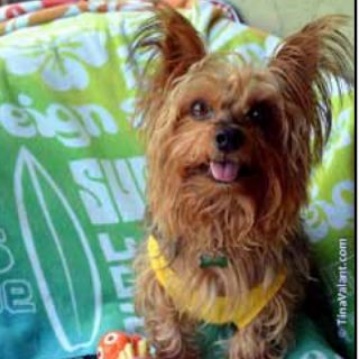 Ducks quacked, ibises gathered, as the relaxing sound of the fountain occupied my senses. Our rescued yorkie Sebastian and I were enjoying a leisurely walk at the park. Unprovoked, he started barking his head off. He had spotted a large dog, across the lake. The owner was nowhere to be seen. Assuming he had gotten out, he had ventured to his happy place, the park. I was thankful he was safe from traffic danger.
My husband had already taken our Aussie pack home. No one was around. This dog wants to be friends with Sebastian. But since he is on the exuberant side, Seb isn't comfortable around him, and acts out. I could not approach, as it would put my dog (on lead) at a disadvantage, and me in danger of being in the middle of a dogfight. No doubt, Seb would attack this significantly larger dog. It would end in disaster for my eight pounds of fury.
Then I spotted the owner. I calmly walked up to her, while keeping an eye on the dog, still watching wildlife. "Oh, he just likes to look in the water. He never goes anywhere." Resisting the urge to go bananas, I assumed calm assertiveness.
"Dogs are living things. They CAN BE unpredictable. Is it really worth the risk of having your furry family member killed by a car or lost because you thought you knew what would happen?". She agreed that her dog needed to be tethered. Sebastian and I continued, keeping the body of water between us, for his safety. I watched her chase her dog around the lake, until we left. I am sure it was aggravating to her.

Your dog should NEVER be off lead unless:

• He/she is under total voice control. You call, they come. PERIOD.
• They are in a fenced, safe area (your yard or dog park). A loud sound could scare them. They take off running, and end up in an unfamiliar area or worse - meet with a moving motor vehicle.
• You are close by (and fast enough to catch them) to supervise their activity and behavior.
Off-lead is not only potentially dangerous to your dog, it's now going to cost you. This summer, the Palm Beach County Commission amended the leash law, as a result of numerous complaints and attacks by loose dogs.

Effective June 23, 2015 ALL DOGS must be on lead* when they are off their owner's property. Get caught now, there's a $75 fine, $150 for the second and $300 for the third infraction. Broward County already required dogs to be on leads.
Accidents happen, dogs doordodge, leashes break which is why I always carry a spare. Speaking of leads, it's in your, the dog's and everyone's best interest and safety to use a standard 4-6' lead, NOT a flexi or retractable. I was recently at a dog event where they didn't enforce the standard lead rule. I have two nice burns on my leg as a souvenir. The flexi/retractable handle can easily be pulled out of your hand, you have less control over the dog, and from a training perspective, it encourages your dog to move away from you. I know of numerous injuries, including the loss of a lady's eye when the cable broke.
To end on a happy note, the rest of our walk was wonderful, and ended with the little beast getting a bath (which he did not enjoy).
*Exemptions include law enforcement dogs, properly-credentialed service dogs, dogs registered in hunting, dog shows, competitions (i.e. flyball, or disc), dogs at a legal dog beach or park.
---
Tina Valant-Siebelts is a confirmed dog-o-holic, mom to many rescued pets, who volunteers with numerous organizations. To "fill all those dog bowls," Tina is an award-winning photographer, writer & event coordinator. www.HaveDog.com