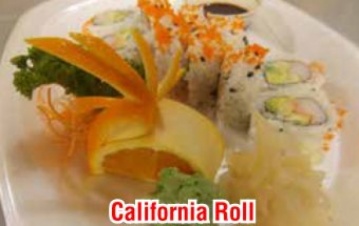 Infinite Choices, Supremely Sensational
3416 South Federal Highway • (Tel) 561-276-1866 • Mon-Fri: 7am-8pm / Sat: 7am-6pm
If you are looking for a gourmet experience that is as pleasing to your palette as well as your wallet, then plan on visiting the newly opened Delray Fresh Market and Bistro located in Delray on Federal Highway a few blocks north of Boca Raton. The versatile proprietors, P.J. Murray and Charles Bradley, offer breakfast, lunch and dinner every day except Sunday.
The dynamic interior has an invitingly contemporary ambiance. One portion of the complex is set aside for dine in customers who can make their selection from an extensive menu featuring signature specialties. A separate sushi menu lists an assortment of Japanese delicacies crafted to your specifications by a resident sushi chef.
You can go beyond the menus by making your selection from the sparkling display cases. A fully provisioned salad bar allows you to assemble a supremely fresh combination of vibrant veggies, topping and dressings just the way you like them. From there you can let your imagination roam over counters filled row after row of scrumptious prepared mains and sides. The friendly staff will answer all your questions and prepare whatever you select on the spot.
Of course, Delray Fresh is a market as well as a bistro. There is an extensive range of organic produce, fresh squeezed orange juice, smoothies and a collection of imported fine wines (priced from $4.99) beautifully presented in open racks at the rear of the dining area, An assortment of homemade baked treats are displayed near the entrance.
Whether you are eating in or taking out, the ideal starting point is the Salad Bar ($8.95) with its enticing assortment of fresh vegetables and condiments.
Cherry tomatoes, mixed greens, cucumber, sliced egg, toasted walnuts and more were assembled in a matter of minutes. To crown this elegant creation, the server suggested a luscious grilled salmon filet.
A visit to the Sushi Bar yielded an adroitly plated California Roll ($7.95) that rapidly disappeared as we dipped segment by segment into an ethereal eel sauce. As soon as we savored the last grain of rice, I returned to the display cases to see what more could we add to our early dinner feast, If you have never had an Eggplant Florentine Sub ($9.95), then you have missed one of the most flavorful combos in town. Layers of marinated eggplant, roasted red peppers, spinach and fresh mozzarella are bathed with a soothing pesto and pressed into crisp ciabatta bread. Such a creation could only be enhanced with a portion of the house's incomparable Bowtie Pasta with Pesto ($8.99) .

Catering is an art at Delray Fresh Market and Bistro. Several pages of the menu list an incredible array of platters and trays featuring Italian specialties, salads, appetizers, subs and more. For additional information visit www.delrayfresh.com