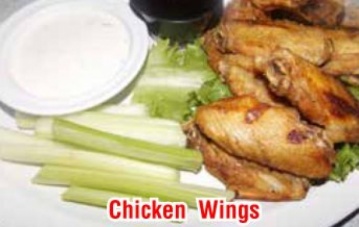 The Perfect Venue to Celebrate the New Year Every Day
728 Casa Loma Boulevard, Boynton Beach • (Tel) 561-736-2717 • Open every day
Water, water everywhere and not a drop of its mystical charm went unnoticed by the snowbirds and locals who packed the decks of Two Georges in Boynton Beach. New Years Eve was only three days away, but the spirit of the patrons, from toddlers to grandparents, was definitely celebratory.
And who can blame them? The Ocean Avenue Bridge glowed like a holiday ornament while lights along the docks and shores cast a multicolored aura over the water. Elegant yachts sailing up and down the Intracostal were often showstoppers.
Kudos to our waitress, Jaime, and the other servers who kept the orders flowing in a timely fashion. Our Frozen Pina Coladas, for example, arrived perfectly chilled and expertly crafted with premium ingredients. These openers plus the sprightly westerly breezes made for an evening of pure ecstasy.
From the perfectly grilled Chicken Wings to the fabulous desserts, it was quite a performance both technically and gastronomically. The Wings ($11.99) were delightfully crisp, flavorful and served with a cluster of vibrant celery as well as a lighthearted blue cheese dip, The Thai Tuna Salad ($14.99) featured cuts of gently seared tuna filet recumbent on a bounty of cabbage, mixed greens, and snow peas .Wispy white buckwheat noodles added an electrifying touch to the ensemble. The perky Thai peanut dressing was such a deliciously inventive touch that I used it also as a dip for the wings.
Although the love of the sea is reflected throughout the menu, there are other types of mains prepared with incomparable expertise. Chicken and Sun Dried Tomato Rigatoni ($17.99) draws upon the power of Parmesan and sun dried tomatoes to transform portions of tender grilled filet, spinach leaves and wide tubular pasta into a potent entrée that delivers a galaxy of flavors with the addition of a sensuous garlic butter wine sauce.
Specialties, such as Local Swordfish ($23.99), are subject to availability. We were fortunate that the kitchen could offer the delicacy in a variety of styles. Our succulent grilled filet was supremely scrumptious and paired with a medley of vibrant fresh veggies and baked potato.
That we had room for the Five Layer Chocolate Cake was somewhat surprising, but that we demolished it in a matter of minutes was not. Who could resist this all chocolate masterpiece?
Happy Hour is available Monday thru Friday (at the bars only) from 3-7 pm. Wednesday Night Trivia runs from 7:30 to 9:30 pm. Enjoy live music every Saturday and Sunday at 4 pm. For more information log on to twogeorgesrestaurant.com/boynton/