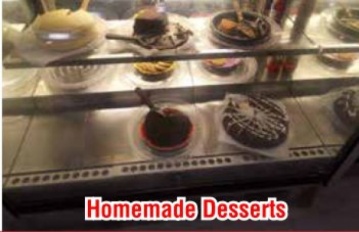 1345West Palmetto Park Road • (Tel) 561-391-8700 • Lunch and Dinner
Having often lamented the closing of superb individually owned restaurants (does anyone remember Tonini's or Café Baredo?), I was taken by surprise to learn that Boca's Chick N Chop had closed its doors. For fifteen years, this purveyor of quality chicken delights had, so I assumed, vanished forever. But, thanks to the effors of our vigilant staff, I discovered thst Chick N Chop was alive and thriving at a new location in Boca's K-Mart shopping center at Palmetto Park Road just a short hop east of I 95 Proprietor Fadi is on hand, as usual, to greet patrons and encourage them to customize their selections. The open kitchen is fronted by a series of counters displaying hot and cold specialties of every imaginable type. It was a pleasure to sit in the bright, newly decorated dining room because this was to be no ordinary late night dinner, but rather the promise of fabulous gourmet feast.
And boy did we have a smashing start. The crunchy, crackling chicken wings served at the peak of flavor need no sauce although we did love the chimichurri created in house.
My companion and I could have built an entire meal around these beauties.
The appeal of the Greek Grill N Chop ($8.49) is in so small measure due to the balancing of a variety of ingredients. What a surprise to find underneath the bounty of grilled chicken and assorted veggies a base of the most ethereal saffron rice: each grain perfectly firm and bursting with so much flavor. The lobes of feta cheese and the hand crafted dressing created the most enthralling taste sensations, The Mediterranean influence is apparent in the Chicken Greek Pita ($7.99). Your taste buds will be tingling with pleasure at every nibble of the utterly fresh ingredients: vibrant veggies, feta cheese, and an abundance marinated chicken filet. The fresh pita could hardly contain all the goodies.
Hearty appetites should gravitate to the Churrasco Platter ($11.79) starring a marinated grilled steak (we prefer it on the rare side). The aroma was enthralling as were the sides of sweet plantains and brown rice. Another masterpiece, the Fish Platter ($11.99), features a delectable tilapia filet sautéed with garlic, parsley and herbs in a light fragrant sauce. Buttery corn and savory roasted potatoes were our two superb sides.
At the finish line, the desserts were pure perfection. The homemade Flan has a satiny texture and a richness that is peerless. Chocolate aficionados will appreciate the intense flavor of the scrumptious Chocolate Cake.
Fast food chicken outlets may be convenient, but are not always the healthiest (too much salt, MSG, etc.) When looking for a healthy and easy way to serve dinner, Chick N Chop Family Value Meals are ideal for three or more. Take out and catering services are also available upon request. For more information log onto www.chicknchop.com