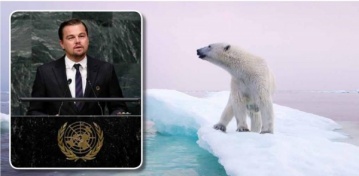 "In 1998, Leonardo DiCaprio established a foundation with the mission of protecting the world's last wild places. The Leonardo DiCaprio Foundation implements solutions that help restore balance to threatened ecosystems, ensuring the long-term health and well-being of all Earth's inhabitants. Since that time the LDF has worked on some of the most pressing environmental issues of our day."
This article is predominantly derived from the The Leonardo DiCaprio Foundation … with a bit of my two cents right here.
Although you are reading The Happy Herald, this article in and of itself, is not happy. It is illustrating the glaring problems with our Earth and our resources and our choices. Only if you become aware, if you allow us to impress the urgency of these times and if YOU choose to take action to help restore the Earth's balance, will this become a happy article.
"We are now experiencing what can only be called a planetary crisis – a convergence of accelerating climate change, unprecedented loss of biodiversity, and increasing human health issues caused by a toxic environment. Since 1970, we have lost one-third of the world's wildlands, and in that time 50% of all vertebrate land animals have vanished. Onethird of the world's coral reefs, the "nurseries" of the ocean, have died and another third are expected to perish by 2030. Climate change is only adding fuel to the fire, with rapidly increasing global temperatures wreaking havoc on the delicate balance that has allowed life to flourish since the end of the last ice age. The situation in which we find ourselves is not just tragic for the thousands of species that will never again roam the Earth, but could threaten the very existence of our own species, homo sapiens.
"Through collaborative partnerships, LDF supports innovative projects that protect vulnerable wildlife from extinction, while restoring balance to threatened ecosystems and communities.
"Through grantmaking, public campaigns and media initiatives, LDF brings attention and needed funding to six program areas – Wildlands Conservation, Oceans Conservation, Climate Change, Indigenous Rights, Transforming California, and Innovative Solutions.
"Did you know that natural systems like forests, wetlands, and marine ecosystems give us clean water, fresh air, and abundant food, while ensuring a balanced climate system? It would cost nearly $100 trillion per year in ecosystem services if we had to pay, yet Mother Nature provides it freely. Maybe it is incumbent upon us to create a world where both nature and humanity coexist in harmony.
"Not only do we believe this can be done, we know it must be done in order to ensure the long-term survival of vital species and ecosystems.
"Livestock production is a major contributor to carbon emissions," DiCaprio shared in a announcement recently. "Shifting from animal meat to the plant-based protein is one of the most powerful measures someone can take to reduce their impact on our climate."
The following information has been excerpted from the Mercy for Animals website:
"'Cowspiracy', now streaming on Netflix, is an eye-opening film directed by Kip Andersen and Keegan Kuhn. In it we learn some truly shocking facts about meat, dairy and egg production and how they're destroying our planet.
"Consider this:
• Animal agriculture is responsible for 18 percent of greenhouse gas emissions, more than the combined exhaust from all transportation.
• Growing feed crops for livestock consumes 56 percent of water in the U.S.
• 2,500 gallons of water are needed to produce one pound of beef.
• Every minute, 7 million pounds of excrement are produced by animals raised for food in the U.S.
"What are some of the key things people can do to raise awareness of these issues? 'Cowspiracy' Director, Keegan Khun responds:
"Keegan: There are a lot of things people can do. First and foremost, they can take an honest look at how their personal lifestyle affects the planet and make necessary changes to reduce their environmental footprint. Secondly, they can put pressure on the environmental organizations to start addressing the true impacts of animal agriculture. Making animal agriculture the forefront issue of the environmental movement is absolutely the fastest way to reverse or slow the destruction to all the planet's resources.
"As famed Hollywood director James Cameron stated, 'There is no such thing as a meat-eating environmentalist.' If we care about our planet and climate change, each of us must acknowledge the disastrous effects of animal agriculture.
Here's more information from LDF: "Growing in reach to over 50 million followers on social media today, Leonardo's fans have engaged on an array of issues protecting key species – sharks in California, tigers in Asia, elephants in Africa – and calling on world leaders to address the global climate crisis. In acknowledgement of LDF's impactful work over the last two decades, Leonardo was designated as the United Nations Messenger of Peace for Climate Change and received the 2014 Clinton Global Citizen Award. In addition to founding LDF, Leonardo also serves on the board of several environmental organizations: World Wildlife Fund, Natural Resources Defense Council, National Geographic's Pristine Seas, Oceans 5, and the International Fund for Animal Welfare."
And of course … in summary, some of Liz's food for thought:
Wouldn't you agree, it's time to care about our planet, our species, our lives and well-being? Please educate yourself, find out more about reducing your carbon footprint and begin to herald happiness!