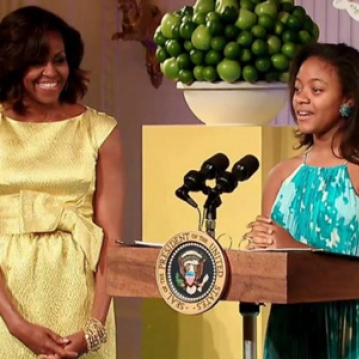 "Animal Hero Kids Rock! It doesn't matter how young or old you are, the good news is we can all help animals in need." - Sir Paul McCartney
February, the month of valentines is a fitting time to announce that nominations are now open for the Animal Hero Kids Paul McCartney Young Veg Advocate Award and other awards categories. The winner can be an individual or a group under the age of 21 years old who advocates for the most ignored and abused group of animals in the world, farmed animals. Please, nominate or support at AnimalHeroKids. org
Here are a few previous Animal Hero Kids Paul McCartney Young Veg Advocate Award recipients.
2012 - Hialeah High School Club for their work to gain more vegan options in their cafeteria, they succeeded in securing 99 percent of the school's students' signatures on their petition to present to school administration.
2014 - Genesis Butler created an "I Have A Dream" spoken word piece about not eating animals for her class when she was in kindergarten, and turned her entire family vegan by asking her mum questions. She is one of the youngest Ted Talk. presenters and is currently an Animal Hero Kids coprez in California.
Genesis front and center at James Cameron's' wife's school, the first plant-based school in the US, with other award recipients.
When Haile Thomas's Dad was diagnosed with diabetes, she began researching ways to cure it. She discovered the vegan diet was the way to go and created scrumptious vegan recipes for her Dad. Today her Dad is cured, and Haile teaches healthy eating; one of her recipes won praise from Michelle Obama and her healthy eating for youth program.
2015 - Left to Right: The Borges Brothers, Marco Borges, (Beyonce's vegan food coach ), Susan Hargreaves, Haile Thomas, NBA Champion, John Salley at the Seed Food and Wine Festival.