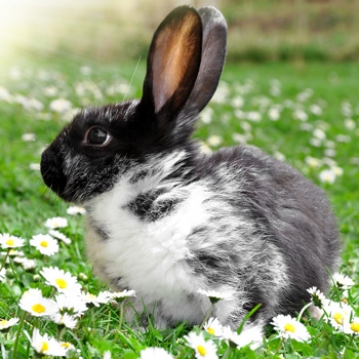 I won a rabbit in a raffle. Please don't ask me why I entered the raffle. I had sworn not to come home with another rabbit. I already had two: my loyal and loving Gekko, and my mischievous and flighty Flippity. The minute I stood in front of the raffled rabbit's cage, a sinking feeling came over me. As I sulked off to have my lunch, I wondered, "What have I done?"
But as I was eating and grumbling, a feeling of calm suddenly came over me. I took a deep breath and relaxed. Somehow I knew that everything would be all right. If I was meant to have this rabbit, things would work out.
The rabbit, a seal-point Netherlands Dwarf, was tiny, weighing only two pounds at two years old. She fit perfectly in my hand. Her dark eyes were huge, but she had tiny ears. I quickly fell in love and called her my little luck bunny. She was the mother of grand champions, and now she was mine.
Her registered name was Diamond Girl, but this seemed too long for such a little rabbit. I began calling her my little Gem. She carried herself with as much dignity as a Victorian lady, but she also had it in her nature to punch the cat on the nose and teach her to respect bunnies.
Over the next few months, Gem went through many ordeals.  She fought off the beginning stages of uterine cancer and had to have emergency surgery. Even through that battle, she had enough spunk to spit out her medicines, punch, grumble, and growl. She'd always end each medication session, though, by snuggling and licking my hand. She spent hours on my lap, nudging me for pettings. This little bunny had tons of spirit and lots of love.
One day, I remembered that calm feeling I'd had when I first met Gem. After overcoming so many health challenges, she seemed destined for more than just being my pet. As docile and loving as she was, I sensed that Gem had a greater purpose.
I had read about pets doing service as therapy animals in hospitals and nursing homes. It began to occur to me that Gem would be perfect for this kind of work. A friend told me that a volunteer group in our area brought a variety of animals to local nursing homes, including dogs, cats, rabbits, and even a llama. I called the representative of this organization and volunteered to take Gem for a visit.
Gem was a natural. Sitting up in her basket, wearing a tiny leash and harness, she watched everything with her big eyes. Her little ears perked straight up. Staff and guests hurried over to see the rabbit. They asked if she was real or a stuffed toy, because she was so quiet and calm. Gem basked in the attention and sat up on her hind legs for a better view.
When we went to visit the residents that first night, Gem won the hearts of everyone she met. One man's face lit up when he saw her. He told me about rabbits he'd had as a child. Later, one of the staff said that this gentleman rarely spoke and almost never smiled.
A blind woman patted Gem with her arthritic hands and cooed to her. The emotions emanating from these people were some of the strongest and most honest I'd ever felt. Watching their faces as they held and loved my little rabbit was like seeing a miracle unfold in front of me. Through it all, Gem sat quietly, nudging people's hands with her nose and occasionally giving someone a quick lick with her tongue. Once she even sat up and washed her face — a true sign of how happy and content she was to be among all these loving people.
As we packed up to leave, one woman caught my hand, her eyes brimming with tears. She said, "Please, you will bring her back again, won't you?"
I knew then that this was why I had won the little luck bunny. Her purpose in life was to bring love to many more people than me and to soothe and heal them. I had been chosen to bring her where she was most needed. She truly was a Gem among rabbits.
Meditation

Who have been the "gem" animals in your life? Were there diamonds in the rough — people or animals — who at first didn't look as if they'd be healing agents, but became exactly what you or someone else needed?