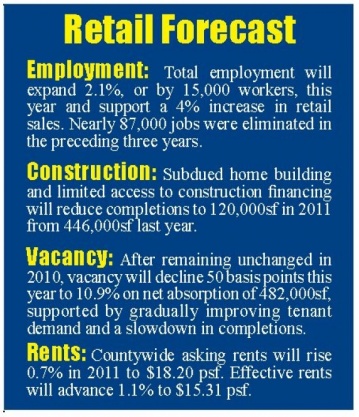 Retail property operations continue to improve notably in Broward County, but..
FORT LAUDERDALE - Retail property operations continue to improve notably in Broward County, but the deliberate pace of the recovery will minimize gains in occupancy / rents this year, and defer a more robust turnaround until 2012. While resumed job creation generated a healthy 6% year-over-year increase in retail spending through the first quarter, space demand has strengthened modestly in response as retailers remain hesitant. A slack pace of household growth and a still-recovering housing market continue to limit the number of new store openings and will support a steady, albeit slow, increase in occupied space over the rest of 2011.
While leasing has increased in the past year, high vacancy persists in many areas, including sections of western Broward County, where population growth and home building have eased from a few years ago. The gradual pick-up in space demand is under way and the soft for-sale housing market, though, will minimize completions for several quarters and keep large planned projects, including Davie Commons and Sheridan Station side Village, from breaking ground.
Investors' demand for decent yields and capital preservation continues to support a fluid single-tenant, net-leased investment market in the county. Nationally branded drugstores remain favored, with deal flow limited only by a lack of recent construction. Cap rates for these assets typically start at 7% for newer buildings with the long lease terms. Small investors have stayed active in deals listing for $3 million or less, targeting ground leases on bank branches, which often trade at cap rates in the mid-6% range. Multitenant deal volume also picked up recently, with healthy institutional and large investor interest in welloccupied properties with strong anchors.
Financing is available for qualified borrowers and many assets, with cap rates generally around 7%, possibly lower for Publix-anchored properties. Demand for properties that are neither top of the market core holdings nor distressed remains strong, but listed inventory remains limited due to the diminished equity positions of many owners. Generally, these properties would sell at cap rates starting in the mid-8% range if made available for sale, but assumable or seller financing may be required to execute transactions.