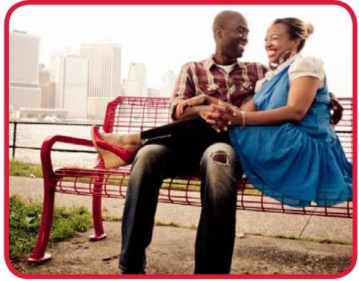 A Wedding of Hope NYC Homeless Invited as Guests of Honor

Formerly Homeless Bride Invites NYC Homeless to Dress Up, Celebrate, and Regain Sense of Self
Nearly every bride and groom consider their wedding to be "their day" and enjoy being the center of attention for friends and family.
Not so for soon to be newlyweds Diamond Jones, 32, and her fiancé, Michael Thomas, 28. The couple look forward to sharing their big day, on Saturday, September 10, 2011, with some very special Guests of Honor that they are inviting: homeless men and women from across New York City.
This heartfelt invitation is neither a grand gesture nor a random act of kindness. After losing both of her parents by age 25, Diamond found herself homeless in Manhattan -- literally sleeping on the street, and even surviving for weeks at a time on just a single bag of potato chips a day. The closest thing she had to a shower was the bathroom sink in various coffee shops, where foaming hand soap and paper towels were a luxury.


Like Diamond, many of the homeless in the city do not have family and may have never had the opportunity to attend a wedding or other formal event. Many of them have also not had a haircut or shower in months, and may have never had a manicure, or owned a tailored suit or dress. The couple's hope is to provide these small but significant "luxuries" to their homeless guests through donations and gifts-in-kind from across the country for the big day.
"This is our vision for our Dream Wedding," says Diamond, "We want to restore dignity and hope back in to each individual life. We want our guests to feel like the Guests of Honor that they truly are."
Diamond, who graduated from Virginia Tech before she became homeless, now works in full-time Christian Ministry. Additionally, she spends most of her free time as an active volunteer with several organizations that provide services to the homeless, including The Bowery Mission, Don't Walk By, Coalition for the Homeless, and New York Cares. Michael is an employee of the City of New York, and has also spent countless hours volunteering with The Bowery Mission, New York City Relief, The Father's Heart, and Coalition for the Homeless. The homeless guests will include a number of men and women the couple have come to know over their many years of volunteering.
The couple is now actively soliciting donations of formal clothing, grooming services, and other amenities for these special guests. Thus far the flowers for the ceremony and reception have been donated by the well known celebrity florist, Belle Fleur, on 5th Avenue.
Please let me know if you would like more information or would like to set up an interview with Diamond or Michael. In the meantime, we invite you to visit www.weddingofhope.com to learn more about the couple, the event, and ways to get involved.