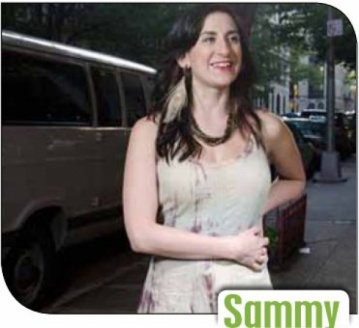 The day she graduated she booked a ticket to Seattle, WA on a whim. When she got there, she ended up playing a show at popular club, The Can Can after three days as a troubadour in the city. Next thing she knew Witness was opening for artists she had seen on talk shows that were selling out venues all over the NorthWest.
"I had sold every physical copy of my previous album The Winter Sessions with in a few weeks," Sammy says. "Musically, I was kicking butt and I never wanted to leave…so I flew back to Florida and drove my car and my guitars across the country to settle in the Northwest. I turned it into a tour and played shows all along the way."
Even though her audience was growing in the rainy state, the outlook seemed limited for an artist through with the coffee shop playing phase of their career. After a little soul searching Sammy took a job offer in New York City.
"It was right after the tsunamis in Japan. I remember thinking 'if that happened here right now I stillwouldn't have accomplished what I wanted to accomplish. These people lost EVERYTHING. I want everything to lose.' The situation inspired the song "Everything to Lose" which is available to listen to on Sammy's official YouTube. ( http://www. y o u t u b e . c o m / u s e r / sammywitness) Today, thanks to her inspiring trek to New York City and her new contacts, Sammy Witness is working on a travel web series called The All Around Sound.
"I plan on shooting the pilot next spring outside of the country". In the meantime, the artist is fundraising for both The All Around Sound as well as her new album "Contrast & Crickets."
Contrast and Crickets is less of a concept album and more of a hurricane. It's impossible to sum up the last couple of years into a concept album. Life moves fast. When you say 'yes' to every opportunity, it moves even faster," says Witness.
Witness, has recently launched her online fundraising page on Kickstarter. com to raise the money for the album. The minimum needed to record the full length album is $1800. Though her Kickstarter she has already raised almost a third of the necessary funds, fans can still donate to the album's on her website www.sammywitness.com