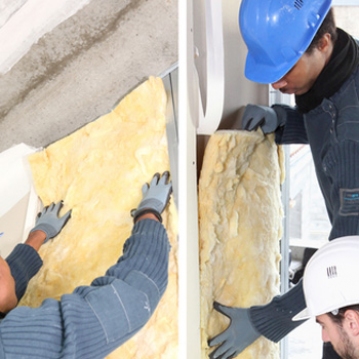 The 5th Phase of our retirement home re-do is to examine the attic and determine if more insulation is needed and if there is adequate ventilation.
• Existing Condition: There is a pull-down stair in the hall which makes it much easier to access the attic. There are a few sheets of plywood in the attic to allow storage, but it could be arranged better and be used more efficiently.
• The Project: All too often the attic is neglected but it is an important feature of your home. It must be insulated thoroughly while having proper and adequate ventilation to dissipate the heat that is trapped in the space.
Generally the insulation is "rock wool" or fiberglass. Both products do a good job, but as a do-it-yourself project, the fiberglass batts are the easiest to work with. The higher the insulation rating, the better the home can be heated or cooled.
I determined that the existing insulation was not adequate and I will proceed with adding more insulation and improving the ventilation system.
• First the insulation. I measured the space and, using a factor of 90%, determined how many square feet of fiberglass I need. Next I carefully removed of all the plywood flooring and set it aside for reinstallation. Two of plywood into three pieces – 16" x 96" – to use as flooring so I could crawl into the outer edges of the space. I also hung a portable work lamp so I would have good lighting.
I followed the manufacturers directions and installed the batts from eave to eave, moving the plywood sheets so I could move about safely.
• Next I determined that a ventilating fan would be helpful. There are several models of fans that can be installed directly on the roof. One model has its own solar panel to generate electricity. The cost is not bad – about $200 each. I am using two to provide maximum exhaust. We store seasonal items in the attic and it helps to keep it as cool as possible.
• Estimated Cost: I budgeted $3,600 for insulation and ventilation including the fans.
• Expected Results: Our electrical bill should be minimized.
North Carolina is not as warm as Florida usually, but A/C is needed in the summer. I discovered that the floor is insulated also. A portion of the basement has a walk-out feature with sliding glass doors from a garden-patio area. The insulation will save on fuel in the winter by keeping the cold air in the basement and in the summer by preventing the A/C cold air from going to the basement.
• Next Project: An inspection of the roof will determine its life span.