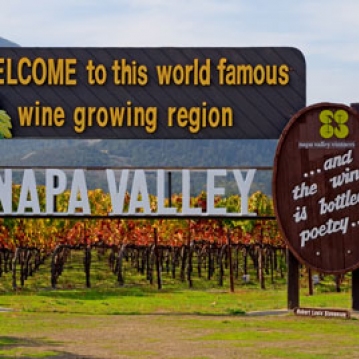 The Napa Valley is home to more wineries than any region in the world – 240 to be exact – and St. Helena has 98 of them. So what´s to do here if you don´t drink? Plenty. My friend Bernadette and I have come to to climb the Wine Country´s tallest mountain, soak in California´s oldest spa and meander the streets of the region´s most literate town.
Mount St. Helena, for which the town is named, is 4,343 feet of ancient lava, looming less than 20 miles from downtown. On a clear day, snowcapped Mount Shasta can be spotted from the summit, as can the Farallon Islands. Putting off the call of the hot springs, we park in Robert Louis Stevenson State Park and set out on the 10-mile roundtrip trek to the top.
Stevenson spent much time in this area while waiting for his married bride- to-be´s divorce to come through. He wrote about Mount St. Helena in his classic, "Treasure Island," calling it Spyglass Hill. Newly married, recovering from tuberculosis and broke, the author honeymooned for several weeks on the mountain – chronicled in "The Silverado Squatters," which many readers consider his best work. He and his bride camped in an abandoned bunkhouse in the ghost town of Silverado, slept on a bed of straw and, like Bernadette and me, took to exploring the mountain.
We hike briskly. A mile from the trailhead, in a forest of moss-covered oaks and conifers, we arrive at the site of the old Stevenson cabin. All that remains is a weathered stone and marble monument. Set well into the forest, and hidden in a mountain notch with a thick cover of oaks, it looks like a cozy honeymoon den.
The temperature drops markedly as our elevation reaches near 4,000 feet.
Bernadette recalls a dream in which she died. "It looked just like this," she says, moving through the white clouds that envelop us. We breathe in the cool air and give up the idea of any kind of view. We´re tired and just want to make the summit and charge back down.
All of a sudden, we see the peak, crisp and clear. We have passed the cloud line, and the summit, just 100 yards away, is ours. At this moment I believe Stevenson when he said, "We live in an ascending scale when we live happily, one thing leading to another in an endless series."
At the top of the Wine Country, I am surprised not only by the vistas, but also by the size of the wooden overlook that occupies the summit. As big as an Olympic pool, its long decks extend hundreds of feet in either direction, dotted with picnic tables that obscure the equipment for a local television station. I climb the redwood stairs to the railing. Thin tufts of mist chase frosty cirrus clouds, momentarily clearing a view of mustard-covered vineyards thousands of feet below.
On our descent, we pass a group of teens, one of them wearing coils of rope around his neck. They are going rock climbing about two miles from the summit on a stretch of mountain called Bubble Rock.
By the time we return to the car, our leg muscles are tender. There´s no place better to soothe them than White Sulphur Springs Resort and Spa. Three miles outside of town, down a long canyon road, and we´re there. In a state loaded with spas, White Sulphur Springs -- founded in 1852 was the first.
Aspens, locusts, redwoods and oak trees fleck the property with shade, while the babbling creek seems to be singing, "relax, relax."