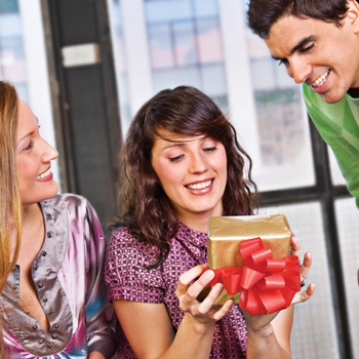 Finding new products and gifts can often mean spending hours shopping at the mall or searching through different websites. But as the Internet has become more social, many people are now tapping into their personal networks to get recommendations on which products to buy for themselves, their family and their friends. In addition, users now have the option of easily sharing a wish list with their social connections to get what they really want.
One way to decide what to buy friends and family is to use a social recommendation site, such as www.shopsquad.com, which allows you to get product advice from a community of experts. The site is set up in such a way as to take the salesperson out of the store and put them onto the web. Just type in your shopping question and hit the "Get Advice" button.
You can also let people know what you want by publicizing your wish list, from popular websites such as www.Amazon.com. Once you've added products to your list, simply click the Facebook and Twitter icons to post your list to these social networks, so your friends and family will see a link to your list in their news feeds.
Facebook itself has also become a vibrant social shopping destination and even has its own virtual "Shopping Mall." Introduced a year ago by social commerce company Payvment, the Shopping Mall on Facebook allows you to browse millions of products – everything from original artwork to vehicles and electronics – and make purchases with just a few clicks.
The Shopping Mall, which you can find by searching on Facebook or by visiting www.fbmall.com, also lets you see what your friends like so you can discover and evaluate new products. Products your friends "Like" are prominently displayed as you enter the mall, and with a few clicks, you can browse the mall through their eyes.
The Shopping Mall also makes the gift-giving process more social. By clicking the "Want" button on products in the Shopping Mall, you add these items to a social "Wish List" that you can share with your friends in their Facebook stream. Your wish list is also posted on your profile page in the mall so friends and family can use it when it's time to pick out just the right gift for you.
With all these new social shopping tools, you can pick out the perfect gift for friends and family and make sure you get what you really want – eliminating the hassle of returns.
Learn more about the Facebook Shopping Mall at www.fbmall.com.