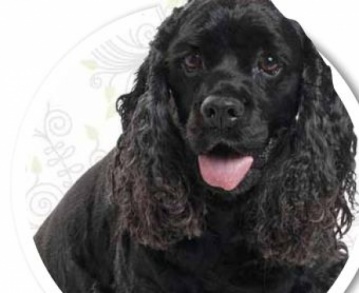 While I submitted the paperwork requesting to adopt the little black cocker spaniel named Harley, a young clerk told me that the dog was physically in excellent shape. Later, Linda confided in me about her conviction that this dog would be a special gift from heaven. "While you signed the papers," she said, "on the inner screen of my mind, I could see a shaft of brilliant white light. It swirled in a circle around our heads. Then the light slowly entered us like a stream of water being absorbed into a river. A strong wave of divine love surged through my body with such force that I felt a jolt. I understood in that moment, this soul had joined our family."
After we completed the adoption process, Linda and I put Harley's new matching blue collar and leash on him. We brought the nervous and excited little dog to a grassy area outside the animal shelter. I walked him around for a few minutes so he could relieve himself, while Linda sat on a bench and watched.
A thin, tall woman with curly dark hair approached me. "Did you just adopt this dog?" she asked. After I nodded yes, she stood in front of Harley. She lowered and then raised her cupped hand toward her chest in the dog-obedience hand signal that goes with the command "sit." Trainers use this gesture because even with no training, a dog will automatically sit while raising his eyes to the treat hovering above his head.
Harley immediately plopped his little butt down on the grass and stared at her. He waited for her hand to reveal a hidden treat. "Smart dog," she said. "Smart dog," I agreed. It pleased me that someone had noticed Harley was a smart dog even before we drove off the shelter parking lot.
I gestured for Harley to hop into the back seat of our car. Nimbly he jumped up as if he wanted out of there as soon as possible. While I drove, Harley surveyed traffic from the side windows. His innate curiosity seemed to be overcoming a natural nervousness at being uprooted once more.
Linda said, "Let's take him for a walk around Lake Harriet before we go to the pet store."
Lake Harriet, with its Victorian pavilions and public paved trail, is a Minneapolis landmark. I felt a tinge of sadness at Linda's suggestion. The three-and-a-half mile
path around the lake had been our favorite place to walk our yellow Lab retriever Taylor. After we held a memorial service for Taylor, we scattered her ashes at one of her favorite spots for viewing the lake. It seemed fitting to take Harley to Lake Harriet as a symbolic way of introducing him to our sweet friend. We had walked almost daily with Taylor, until cancer riddled her body. I sensed a visit to the lake would help to reconcile the past to the present.
When I stopped the car at a red light, a Harley-Davidson motorcycle pulled up next to us. Harley lunged from the backseat to the armrest between us. His ears flailed back. He glared at the bike and growled.
Linda's eyes widened. Harley had ferociously expressed dislike for his namesake. She looked at me and said, "This dog does not want to be called Harley."
"Definitely not," I agreed. From the shade trees around the lake, a gentle breeze swirled leaves that floated to the ground and blanketed the browning autumn grass. After we parked the car on the lake lot, Harley shot out of the back seat.
Canada geese honked, and mallard ducks quacked warnings: A new hunting dog had arrived on the scene. Lake Harriet shone a deep blue. Sunlight sparkled off its reflecting waves. Our little cocker spaniel spied the swirling leaf piles on grassy patches alongside the path. He immediately jumped into the multicolored leaves like a little kid bouncing on a mattress.
Joy filled my heart at the sight of this dog playing. He had so much of the unknown to fear. Yet he rolled and played, and bits of pumpkin-colored leaves clung to the curly fur of his black paws.
"Harley loves leaves," I said. Linda watched him for a while and said, "Let's call him Leaf. That name keeps coming to me. I think he'd like it."
The name fit this slender dog, so light on his feet. His life had been scattered during an autumn cycle of change. "Yes, it's a perfect name," I said. "A dog named Leaf."
While watching him roll around, I decided to try out his new name. "Leaf," I called. His little head shot up, and he looked at me with the intelligent expression in his eyes that had intrigued me at the animal shelter.
"Leaf," I said again, more softly this time. "Leaf."
As we continued our walk with Leaf, I began to feel lighter and less burdened. The sharp, heavy pain of Taylor's death lifted now that my heart opened with love for another being. This abandoned and confused pup desperately needed a safe and loving home, with good people who would never desert him. I looked down at Leaf and inwardly proclaimed, "I'm going to be here for you from now on."

Excerpted from: A Dog Named Leaf: The Hero from Heaven Who Saved My Life by Allen Anderson with Linda Anderson, published by Lyons Press/Globe Pequot Press, 2012. All rights reserved. Reprinted with permission. www.adognamedleaf.com