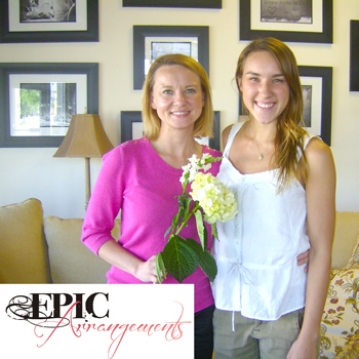 There's a flower shop on Broadway in West Palm. It's at 4715, on a corner. A shop that at times bustles with orders, people in and out, ringing of the phones, and deliveries. Where flower stems adorn the floor at the base of the working table in the back, as if draped off the edges making their own unique designs. Ribbon racks, shelves of vases, and the smell of fragrant beauty beckon the visitor to sweet memories of all that flowers stir in the soul. And this flower shop definitely has soul. There's always a story behind the doors, and this one is epic.
Melissa Pierce, wife of Pastor Ben Pierce, came to Jupiter in 2007 for a church plant (Generation Church in Jupiter). After getting settled, Melissa felt led to do more with her already busy life. She felt that God was leading her to help strippers and prostitutes, but having studied finance at Virginia Commonwealth University in Virginia and having no experience in adult entertainment, she had no direction as to how. After building relationships with managers at four adult entertainment clubs in the area, and providing gift baskets with devotionals and spiritual support to the working women there (the start of her Epic Beauty ministry), she and two friends, Nicki and Chelsea found themselves spending an hour a week on Broadway in West Palm to offer the same spiritual support and care to homeless, addicted and distressed women on the streets.
Still that wasn't enough for the core group who had come this far. When Melissa was vacationing in 2011, and spending time at the National Parks in California, she knew a stirring in her heart was confirmed. With no experience in flowers and no startup funds, she knew the tiny seed of an idea to open a flower shop to assist, provide spiritual support and employ these women was what she was to do. Faith paved the way. Melissa listened and today, Epic Arrangements just passed their one year anniversary, having employed upwards of 30 women and helping many others get to detox, receive much needed prayer, and basic living items, along with a real sense of hope. Epic Arrangements is a full running business, with regular clients, occasional customers and a host of community connections. And it's growing! St Mary's and Good Sam Hospitals supply their gift shop with floral arrangements from Epic Arrangements. Realtors, churches and an accountant are on the regular list, too. Kim Gomez is heading up the new Floral Workshop offerings, scheduled at your location or at the Broadway Studio that bustles with gentleness, creativity and love.
Leah Van Atta, a graduate of Liberty University and certified in floral design, handles the management operations as well as supports the incoming manager, Halle Frey, a former head stewardess of a yacht and Palm Beach Atlantic University graduate who will study floral design this June at the South Florida Floral Design Center. Volunteers like Tanya, who handle various aspects of day-to-day operations and assists with events, and Debbie who acts as a liaison in the outreach part of the business, offer their time and support to show the love that is behind the vision of Epic Arrangements. There are many more volunteers and staff that have come together for the epic mission.
Communities and businesses around Palm Beach County are learning about the flower shop on Broadway from love built.
Their mission statement: Epic Arrangements specializes in contemporary, upscale floral designs with a purpose. Each time you buy an arrangement, you are directly helping the community by giving work and hope to women in need of a second chance. For more information about our unique bouquets, designer wedding and special event florals, as well as the vision and mission behind our cause please contact us. Do something beautiful. Do something Epic.