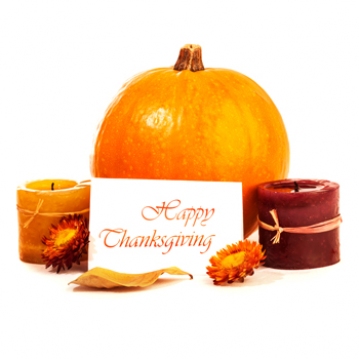 As Thanksgiving comes barreling around the corner, I take stock in all I have and have accomplished, realizing that just a short two years ago, life was as precarious as can be as we lived off the bare essentials in a world of perpetual instability. Not that anything in life is ever guaranteed; by nature, the only guarantee in life is uncertainty. And frankly, if we're able to embrace this fact without fear and live with passion in spite of it, that alone is cause for celebration and worth being thankful for.
For us personally as a family, Thanksgiving was nonexistent for many years and only recently, made an encore appearance in our lives. As a mixed American-Costa Rican family who lived many years in Panama, South America, we shrugged off all things "gringo" in the name of fitting into our adopted Panamanian culture. Our five kids, all born off US soil, never knew the difference and never missed this cherished American tradition where as a country, we collectively exhale before the holiday craze takes off.
In fact, it wasn't until just a few short years ago—after our migration back to my native United States— that we introduced the children to a real American Thanksgiving as residing citizens. And gradually, we began to show them what it meant for us—a family once on the brink of despair who has been able to make a major comeback. You see, this time of year is especially poignant because just a short time ago, we had lost everything. Yet through our struggles, we grew in character and depth and learned to appreciate even the smallest of victories—even if that meant finding a pair of good-fitting kicks in a bag of second-hand clothes. When life as you know it tumbles to the ground, you learn to be thankful for each and everything that pushes your head back above water. You try to remain in a state of gratitude lest life again nosedive in the blink of an eye.
In today's hectic, multi-tasking world stopping and taking it all in, really slowing down to count our blessings, is a challenge we all face at one time or another. As a family, we've come so far from those days of joblessness and feelings of hopelessness. Yet sometimes, in our race to success, to turn things around, we forget to glance back at the starting point, and see how far we've come.
For those of us, like myself, who get swept away by the fast-moving currents, now more than ever is a good time to stop, look around, and snapshot the moment. Because life—a mere string of moments—is guaranteed to change. We must declare our appreciation for this moment publicly and out loud so that the universe will align and continue to bring us more of what matters most. And just in case it doesn't, let's be thankful for the coping tools we possess that allow us to get through whatever is thrown our way.
Happy Thanksgiving!