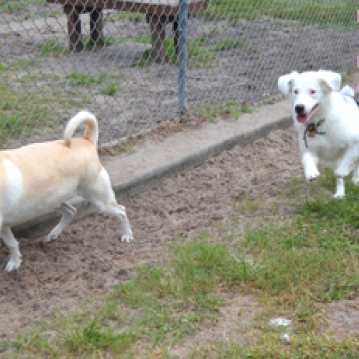 We hope everyone enjoyed a happy, healthy holiday season—especially those who adopted and added a furry family member. There's more to celebrate.
January kicks off 2014 with National Train Your Dog Month. Enhance your relationship, build trust and even meet new friends (canine and human). Brush up on the basics ~ it's never too late to train. Old dogs can learn new tricks. Visit your favorite pet supply store, most offer a variety of classes, or look into community school. You might even explore agility, rally-o, or fly ball. Can't commit to a regular schedule? Ask for recommendations and contact a trainer to arrange for a private consultation. Hone in on what your dog and family really need to attain maximum safety and enjoyment.
Did an abundance of holiday treats and soirees leave "more of you" to love, than you really want? You're in luck! January is also Walk Your Pet Month. Walking is the best, safest and certainly the most cost-effective way to exercise. Bonus! You your best friend wants to accompany you. Make sure your dog has on his/her collar with ID. For optimum safety and control, use a standard four to six foot leash---NOT a flexi or retractable. Wear good walking shoes, and don't forget water and those pick-up bags. Maybe invite a friend or neighbor to join you. Plan to go out at least 20-30 minutes, daily. Get your heart rate up and burn calories. Bring your phone, for emergency use only. As you absorb the sights and sounds of nature, enjoy the moment, and our spectacular South Florida climate. Walk tall, breathe deeply on your walking meditation. Your heart, mind, body and dog are going to thank you. Increase your speed and distance each week. If it becomes too much for Bella or Max*, you may have to drop them off at home and finish your walk without him/her. *two common dog names National Pet Travel Safety Day is January 2. Every time I see a dog on its owner's lap, head out the window, I cringe. A speck of sediment or bug can damage your dog's eye. Dogs have jumped or fallen out of moving vehicles. Don't take the chance---no matter how cute it looks with their ears aflappin'. Secure, in a crate is safest. If this isn't possible, as in my case with multiple dogs; make sure your dog has his/her collar with ID and a leash on, in the car. Accidents happen and you want some type of restraint/control over your pet in case.
Our rescued mini aussie, Dru (aka Mouse) is very excited about January 21. It's Squirrel Appreciation Day. She is obsessed with these varmits, whether at the park or in the yard. She stalks them near the birdfeeders. And one day, with any luck… she just may catch one. See you at the park!
Together since pups, labrador Jolly and Australian shepherd Bella are only three years old. She is blind, he is her guide-dog. They need a home, together. Contact Tina for details: tvalant@aol.com 561-945-6363