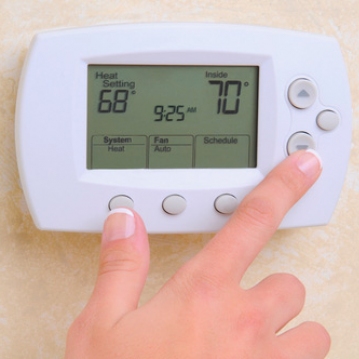 Question:
I am constantly adjusting my thermostat. Do the programmable ones really work? And can I install it?
Answer:
Good questions to ask before investing in a new gadget. Thermostats have been around a long time but the programmable ones are now into the age of electronics and remote control.
As for installing it yourself, it's not too difficult.The device includes a diagram to follow. Fortunately the electricity is all low voltage and not very dangerous. You may want to call an electrician and get a quote, and he can advise you on which make and model is compatible with your heating and cooling equipment. Keep in mind that you will save electricity in the long run.
There are several types of programmable thermostats:
7 day - each day can be controlled 5 1 1 day – all weekdays are set to the same control but the weekend days can be controlled separately and 5 2 - all weekdays the same and the weekend days the same.
The days and time will vary if you have children (in school or not); a stay-at-home mom and working father; working parents; business owners; etc. You get the idea - the more diverse living conditions, the more you will benefit from inside climate control.
The learning thermostat reads movement in the home and calls on cooling (or heat in a winter environment) if there are people in the house. Normally pets do not interfere with the settings. This device costs about $250.
The Wi-Fi Smart thermostat is easy to program and can be changed temporarily by your smart cell phone. It costs about $200.
You will recover the cost by the savings on your electric bill.
Before buying a thermostat, identify the type of equipment you have so you can check that the thermostat is compatible.
Your programming should be based on your wake time, sleep time, and work time (when you leave and return).
I have programmed our thermostat to comply with our lifestyle. Our kids have moved out and we do not have pets. We are both in the house most of the time during the day and our sleeping pattern is quite constant. However when we travel, I reset the controls to provide enough cooling to keep the humidity low.
You will be very glad you installed (or had installed) a programmable thermostat and wonder why you waited so long to do it!