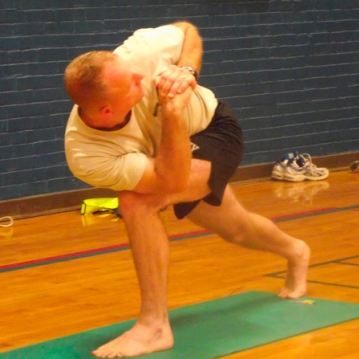 We've all heard there's no such thing as a free lunch, but how about Free Yoga?
A "no strings attached" offer is hard to come by these days and many of us have become suspicious of something that sounds too good to be true. But I am here to tell you, good things are happening in our community and throughout our country. Read on and you will see.
Many of our veterans are returning home after serving overseas struggling with PTSD (post traumatic stress disorder) and depression. They suffer with debilitating anxiety, fear and nightmares. Connected Warriors, founded by Judy Weaver and Ralph Iovino, is a charitable organization that is dedicated to teaching the men and women of our military and their family members practical and effective trauma conscious yoga based techniques to help them lead healthier lives as they fight various medical, physical and emotional issues. The benefits of yoga include sleeping longer and more deeply, increasing strength, flexibility, balance, focus, cardiovascular conditioning, lowering blood pressure, weight management, improved immune function and more. Yoga is not a religion and is completely non-sectarian. People of all faiths and beliefs practice yoga to increase health and wellness.
Maybe you've been to a yoga class and have experienced the benefits of stretching, breathing and connecting? Or you know someone who loves yoga? There's a reason why yoga has become so popular. It's simple. Yoga works and produces amazing healing for the mind, body and spirit.
Connected Warriors all started when a single young man who served five tours in the Middle East arrived home to discover that a new battle was waging war in his body. He was diagnosed with Lou Gehrig's (ALS) disease. He approached his diagnosis as an opportunity for him to do everything in his power to live --- the rest of his life --- as healthy as possible. As chance would have it, he walked into one of Judy Weaver's Yoga classes and was introduced to the postures and breathing control techniques that visibly changed his life. Thanks to a committed instructor and an unbreakable will to live fully, Beau MacVane's length, and more importantly, quality of life was extended. Curtis, a U.S. Army Veteran of Vietnam has also seen the positive effects of the Connected Warriors program. "I am sleeping through the night for the first time in 40 years."
Judy Weaver has seen and met the need to help others and has been inspired to share her vision. She believes, "The men and women of our military are not the only ones who need our help but also the families who have spent countless hours, days, and months waiting for their loved ones to return. Our hope is that 'home'can be the family's greatest source of peace."
"We have a tremendous opportunity and the time is right for us to make a difference in the lives of our vets and their families by providing them with unique breathing and physical training that are in essence tools they can use to once again take control of their lives, giving them back a sense of balance and wellbeing. We have an exceptional network of dedicated yoga instructors specifically trained in issues related to PTSD and we are able to offer a safe environment where vets and their support network can experience the benefits of (free) yoga while practicing with their peers, who bring the benefit of a shared experience and a unique comradery," commented Elizabeth Berryman, Executive Director.
David Frankel, Former Executive Director and proud Board Member of Connected Warriors says "More than anything, the vet returning from a trauma needs a sense of peace." Yoga does that. Nothing is more powerful than seeing these men and woman who have not been able to close their eyes because of always being on the "look-out" drift into peaceful relaxation after an hour of stretching and breathing or a wife who says they no longer have "PTSD days" at their house or the veterans who no longer take medication to keep their blood pressure and anxiety under control.
Preliminary research in a Defense Department study shows that veterans with PTSD had fewer symptoms after 10 weeks of yoga class twice a week and 15 minutes of practice each day at home. Research also confirms that yoga exercise and relaxation techniques can have a positive impact on veterans' physical problems, mood and energy levels. Recent studies from the National Institute of Health, Walter Reed Army Medical Center and Harvard's Brigham & Women's Hospital, all indicate that the practice of yoga can help manage the myriad and long lasting effects of trauma-induced stress.
The goal of Connected Warriors is to provide, without charge, effective wellness programs that enhance the lives of veterans, service members and their families.
---
Connected Warriors is founded on the principle of seva "selfless service". These veterans gave that to us; it is time to give back. If you know a veteran or family member that can benefit from more peace, Connected Warriors is here to help! earn more visit ConnectedWarriors.org for a schedule of classes and to consider making a donation. Come meet the Connected Warriors team and outstanding supporters at the fundraising Gala in Manalapan on November 7 th . See you there.