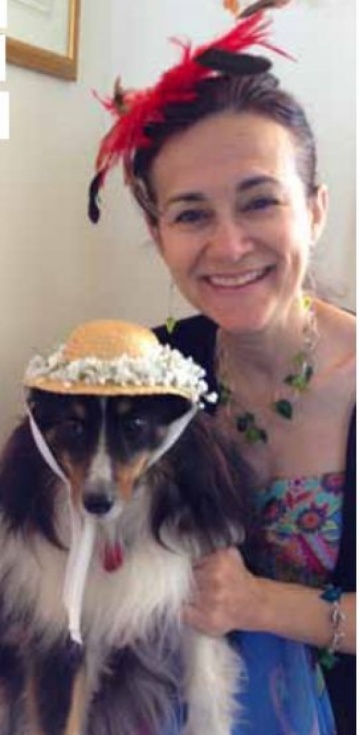 Did you ever just get a feeling about something? You know, like when your heart pulls you in a certain direction. That happened to me one day.
Often, I don't listen and just keep going along with my busy day. Probably you are like me, checking off the list of to dos. This day was different however, I felt a strange pull and I listened! Thank God I did, because it was a day that changed my life and the life of many others!
I was driving down the boulevard when I swerved and made a U-turn. What's going on I thought to myself? I pulled into the Animal Shelter, a place I hadn't been in a few years, ever since I was teaching and sponsoring a student volunteering there. Ok, let's go with this feeling, take a deep breath and walk around. I always had mixed emotions being at the shelter, I felt sad, yet I felt hope. As I headed down the third aisle, I saw her, a scrawny little thing with those eyes. How could I forget those eyes! They just grabbed me and held me and somehow they calmed me down. I was relaxed and I was excited.
Since my wife was diagnosed with Crohn's Disease, she had to quit doing art shows and stop working at her fevered pace making glass jewelry. This was devastating and we both were worried. I was studying Acupuncture and Oriental Medicine as a way to help her health and also my father and brother who both have Multiple Sclerosis. I had dogs before, but I never had a therapy dog. I wasn't even thinking about this when that little dog grabbed my eyes. Somehow, I knew those eyes were ones of a healer. That little 5-pound runt had a 500-pound heart! I asked to see the puppy and they let me enter her little walled-in area. She was with several other dogs that were nipping at her and I could tell she wasn't happy, so I picked her up. Immediately, I called Marilza and told her to come over to the shelter. She said, "What? Are you sure about this, I'm not really a dog person". Growing up in Brazil, her family had one dog; he lived outside and wasn't really considered part of the family.
Hesitantly, she agreed to meet me and I waited with this tiny shaking little thing in my arms . I didn't put her down till Marilza came over to find us. I just handed over this little girl. She took her and I could see, immediately, her heart melted.
Well, moving forward 7 years, Marilza had named her Saphede (Sa-feedy), after a Brazilian cartoon hero. Our little 10-pound Sheltie mix is a wonderful certified therapy dog. They both took classes at the Humane Society and now they are visiting nursing homes and schools. The words they hear the most are, "I love you!" Together Marilza and Saphede rejuvenate so many people in addition to healing each other.
William Larzelere, OMD, L.Ac.
Acupuncture Physician zral@bellsouth.net