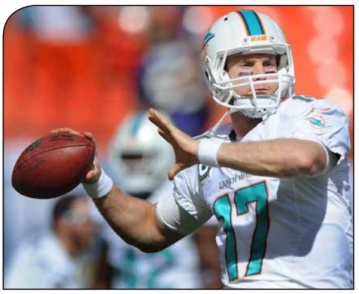 Part of the advantage of doing a monthly column, thanks to my superiors at the paper, is that we get a better chance to evaluate the prospects of a certain team - or teams – given the perspective of time. So it is with our NFL season preview, which by the time you read this, will have finished its first four weeks. Nonetheless, since football will be with us until after we elect the next President, it's never too late to put in our two cents regarding the prospects of Florida's teams, so here we go:
MIAMI DOLPHINS: For the state's oldest franchise, it's all about a new start. And that begins with new head coach Adam Gase, brought over from the Chicago Bears, where he was lauded for his work with their quarterbacks. And make no mistake about it, Gase's first job is to resurrect (save?) the career of Dolphin's QB Ryan Tannehill, who's been saddled with four head coaches, and at least five offensive coordinators. Can Gase do it? Well, based on the early reviews, the results appear promising. Tannehill has a number of offensive weapons, including WR's Jarvis Landry, Kenny Stills and Devonte Parker, and veteran RB Arian Foster anchoring the running game. On defense, newcomers Kiko Alonzo and Mario Williams hope to strengthen a unit which has a strong front seven, but has questions in the defensive backfield. Add to that a daunting early schedule, and you have the distinct possibility the team may be better on the field, but its record may not be better. But I think the new coach/QB combination will click, so injuries notwithstanding, we see a promising future. Prediction: 9-7.
Tampa Bay Buccaneers: Over in the Bay area, they are past the point of hoping for QB improvement, having found their answer in QB Jameis Winston. The 2nd year signal caller showed his critics he could mature and be a leader last year; in the off-season he committed himself to a strenuous off-season conditioning program and showed up for work ready to roll. Additionally, the Bucs have given Winston some weapons to work with, including WRs Mike Evans and Vincent Jackson, along with RBs Doug Martin and Charles Sims. But the biggest change might be the decision to make former coordinator Dirk Koetter the head man – thereby cementing their commitment to Winston. After all, if the new coach is your QB's former coordinator, it's a safe bet they hope Jameis will continue to develop and improve. A youngish defense hopes to keep pace as well, but the early schedule features visits to Arizona and Carolina, so bettering last year's 6-10 record will be a challenge. Prediction: 7-9.
Jacksonville Jaguars: Once nicknamed the "Bold New City of the South", Jacksonville's fate lies squarely on the shoulders of its 3rd year signal caller, Blake Bortles. In fact, along with Bortles, the Jags hope WRs Allen Hurns and Allen Robinson will provide targets, as will newly-healthy TE Julius Thomas. Combine that with an invigorated defense, led by returning 1st round draft choice Dante Fowler, as well 2016 1st round draft choice, DB Jalen Ramsey, and the Jags are, in some circles, a dark-horse pick for the postseason. We aren't so sure; let's just say we need to see it to believe it. Prediction: 8-8.
That's it… here's hoping your team's September dreams turn into November/ December realities, but even if they don't, that's what makes it fun, right?
Good luck!
---
Mark Tudino is an attorney with offices in both Miami-Dade and Broward counties, whose practice specializes in all areas of civil litigation. He has lived in South Florida for more than 20 years. Prior to attending law school, he was a political and sports reporter for television stations across the country. His career allowed him to cover everything from presidential elections to national championship sports teams, and he still maintains a passion to observe and discuss the world of sports. Attorney at Law. 954-983-8000. 3475 Sheridan Street Suite #211. Hollywood, FL 33021.