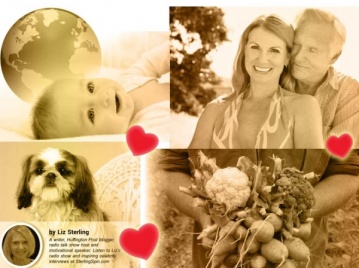 I have a friend who unabashedly loves to see cartoons and animated movies. Her list is endless: "Coco," " Captain Underpants , " "Moana," "Finding Nemo," "Toy Story," "Aladdin"….
She doesn't even look for a child to take with her to the cinema. Popcorn in hand, a smile on her face, it's the heart and soul of animation that lights her up.
Now if it were me, I'd borrow a kid, like my best friend's eight-year-old granddaughter, and I'd enter the movies as an escort; but truth be told, I would be enjoying the fantasy world of storytelling through and through. There is something magical about animated movies. They're transporting and they're often about one simple word, LOVE.
This morning, as I was looking at the cover of this month's magazine and feeling the width and breath of what love is all about, I realized we have an opportunity to think about love in a broader dimension. Yes, of course, we will always have romantic love that sets our hearts ablaze, and love for our children, our families, our pets and for our acquisitions.
A Whole New World
I can show you the world Shining, shimmering splendid

Tell me, princess, now when did

You last let your heart decide!
I can open your eyes

Take you wonder by wonder

Over sideways and under

On a magic carpet ride

A whole new world

A new fantastic point of view

No one to tell us no

Or where to go

Or say we´re only dreaming
A whole new world

A dazzling place I never knew

But when I´m way up here It´s crystal clear That now I´m in a whole new world with you
Now I´m in a whole new world with you
Unbelievable sights Indescribable feeling Soaring , tumbling , freewheeling Through an endless diamond sky
A whole new world (Don´t you dare close your eyes) A hundred thousand things to see (Hold your breath it gets better) I´m like a shooting star I´ve come so far I can´t go back to where I used to be

A whole new world (Every turn a surprise) With new horizons to pursue (Every moment, red-letter) I´ll chase them anywhere There´s time to spare Let me share this whole new world with you

A whole new world (A whole new world) That´s where we´ll be (That´s where we´ll be) A thrilling chase A wondrous place For you and me
Songwriters: Alan Menken / Tim Rice A Whole New World lyrics © Walt Disney Music Company Artists: Lea Salonga, Brad Kane • Movie: Aladdin • Released: 1992
Today, though, I'm inclined to invite you, the reader of the Happy Herald, to feel the love of a whole new world. Can you engineer in your mind and heart, for just this moment, a world where the earth and the soil is nourished? Where the children feel safe and the animals are well cared for and respected? Can you see a world of compassion, of appreciation - and as long as we are playing the fantasy game, how about a world where there is reverence for our Mother Earth? These are the messages that are needed to awaken our hearts. These are the lessons for our children and our children´s children. It's time to go to the movies and listen to the wisdom that is shared through the magic of storytelling.

I'm sitting in love right now, reminiscing about the game I used to play with my children at night. It was just after the movie "Aladdin" came out and we all were tickled by the notion of traveling on a magic carpet. So each night as my four-year-old son and five-year-old daughter would lay down to sleep, I would tell them a story that included a magic carpet. Eyes closed, we would travel the world, seeing glistening sites and feeling the wind beneath us as we were transported to a world that was shimmering and splendid. Our hearts were open wide and our minds filled with the images that allowed us to soar into sleep and to love ourselves and each other and especially our whole new world. There's a lot of ways to love, and a lotta loving to do. I found the lyrics to the "Aladdin" theme song from 1992. I hope you enjoy the ride as you read and sing along… and share your love throughout this wonderful month of February!