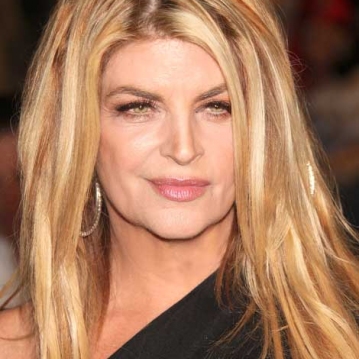 Comedic actress Kirstie Alley is currently dancing her way across the stage in the hit show Dancing with the Stars. This former high school cheerleader from Wichita, Kansas is no stranger to dancing. She has danced her way into our hearts, after her 1982 movie debut in "Star Trek: The Wrath of Kahn," which resulted in having her own action figure. Five years later, she joined the cast of Cheers with measurements of 34C-35-36 (these measurements came back to haunt her years later when she gained weight, and became a plus-size actress who served as Jenny Craig's spokesperson). Even though she won numerous awards and received accolades for her role as neurotic Rebecca, she is the only Cheers regular character – with the exception of Coach – who never guest-starred on co-star Fraisier's show. Kirstie was never the type of person to just do what everyone around her was doing, because according to the independent woman, "You are not in business to be popular.
Nevertheless, two years after everybody learned her name, she met John Travolta while filming the heart-warming movie Look Who's Talking, which subsequently lead to two more movies about the same lovable characters.
Kirstie soon became John's best female friend. In fact, at the birth of his and Kelly Prestson's son Benjamin, Kirstie looked after their daughter Ella Bleu Travolta, and was the couple's first celebrity friend to see the newborn baby boy.
Speaking of children, Kirstie has two kids of her own: William True Stevenson (born September 28, 1992) and Lillie Price Stevenson (born June 15, 1994). Both children are adopted, and from her marriage to Parker Stevenson. After proving herself as a successful mother and actress, Kirstie received a star on the Hollywood Walk of Fame in 1995. Her success encouraged her to take the next step in her acting career by becoming executive producer and lead-role in the TV sitcom "Veronica's Closet," which aired from 1997 to 2000. By 2005, she was a co-creator, executive producer, writer, and star of the TV show "Fat Actress," which mirrored her real life struggle as a successful actress who gained weight.
What inspired Kirstie's ambitious venture forth from the acting world, into the producing, writing, and creating worlds? According to the feisty comedic talent, "I think what is important is a beautiful life, and you are the creator and designer of that life." I completely agree with her statement, which reminds me of one of my favorite quotes: "Life is not about finding yourself, it is about creating yourself!" With these powerfully positive words of wisdom in mind, go out and create yourself! Kirstie's ability to constantly re-create herself is inspiring. Enjoy watching her compete in her latest role as a finalist in Dancing With the Stars.