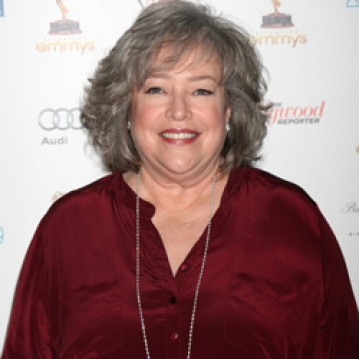 Kathy Bates stars in NBC´s "Harry´s Law" as Harriet "Harry" Korn, a curmudgeonly ex-patent lawyer who was recently fired from her cushy job and forced to search for a fresh start. Bates has been honored numerous times for her work on stage, screen and television. She won an Academy Award and a Golden Globe for her portrayal of obsessed fan Annie Wilkes in Rob Reiner´s 1990 hit "Misery," based on Stephen King´s novel. In 1999, she received Oscar, Golden Globe and BAFTA nominations and won a Screen Actors Guild (SAG) Award and a Critics Choice Award for her performance in Mike Nichols´ "Primary Colors." Bates more recently earned her third Oscar nomination for her role in Alexander Payne´s "About Schmidt," for which she also garnered Golden Globe and SAG Award nominations and won a National Board of Review Award for Best Supporting Actress. Her film work has also been recognized with Golden Globe and BAFTA Award nominations for Jon Avnet´s "Fried Green Tomatoes," and she also shared in a SAG Award nomination with the ensemble cast of James Cameron´s all-time, topgrossing blockbuster "Titanic."
Bates had a wide range of projects, including the features "Earthbound" and "Wedlocked," in 2010.
Bates was most recently seen in "Valentine´s Day"; "The Blind Side"; Stephen Frears´ period drama "Cheri," in which she starred with Michelle Pfeiffer; Sam Mendes´ acclaimed drama "Revolutionary Road," which reunited her with Leonardo DiCaprio and Kate Winslet; the sci-fi remake "The Day the Earth Stood Still," which opened at the top of the box office; and the independent drama "Personal Effects," with Pfeiffer and Ashton Kutcher.
Bates´ long list of film credits includes "P.S. I Love You," "Fred Claus," "Failure to Launch," "Little Black Book," "Dragonfly," "American Outlaws," "The Waterboy," "The War at Home," "Dolores Claiborne," "A Home of Our Own," "Prelude to a Kiss," "Shadows and Fog," "At Play in the Fields of the Lord," "Dick Tracy," "Men Don´t Leave," "Come Back to the Five and Dime, Jimmy Dean, Jimmy Dean," "Straight Time," and "Taking Off." Bates lent her voice to Jerry Seinfeld´s animated comedy "Bee Movie," as well as "Charlotte´s Web," and "The Golden Compass."
On the small screen, Bates most recently appeared in the FX miniseries "Alice," in which she plays the Queen of Hearts. She won a Golden Globe and a SAG Award and earned an Emmy Award nomination for the 1996 HBO film "The Late Shift." Her television honors also include Emmy, Golden Globe and SAG Award nominations for her performance in the musical "Annie"; another SAG Award nomination for her role in the telefilm "My Sister´s Keeper"; and four additional Emmy Award nominations for her work on the projects "3rd Rock from the Sun," "Six Feet Under," "Warm Springs," and "Ambulance Girl," which she also directed.
Bates has also been honored for her work behind the camera as a director. She helmed the A&E telefilm "Dash and Lilly," starring Sam Shepard and Judy Davis, which earned nine Emmy nominations, including one for Bates as Best Director. She also directed five episodes of the acclaimed HBO series "Six Feet Under," earning a Directors Guild of America Award for the episode entitled "Twilight." Her directing credits also include the telefilm "Fargo," and episodes of such series as "Oz," "NYPD Blue" and "Homicide: Life on the Street."
Bates first gained the attention of critics and audiences on the New York stage. She was nominated for a Tony Award for her portrayal of the suicidal daughter in the original Broadway production of Marsha Norman´s Pulitzer Prize-winning play "´night, Mother." She also won an Obie Award for her performance as Frankie in the original off- Broadway production of "Frankie and Johnny in the Clair de Lune."
Born in Memphis, Tennessee, Bates received a Bachelor of Fine Arts degree in 1970 from Southern Methodist University, which awarded her an honorary doctorate in 2002.