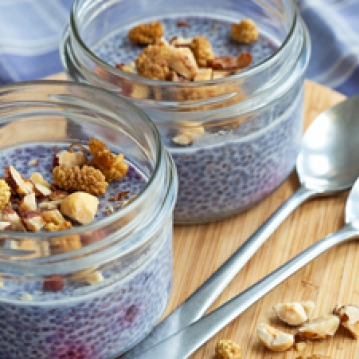 A SUPERFOOD that is simple to make, packs easily and is full of vitamins & minerals.
- Mix 2 cups vanilla almond milk with 1/4 cup chia seeds
- Shake well in a sealed container or jar…ready in just 10 minutes!
Chia seeds are chock full of fiber, protein and immune- boosting antioxidants. Each serving (1/4 cup of pudding) contains:
• 6 grams soluble fiber
• 3 grams omega-3 fatty acids
• 3 grams protein
I refer to this pudding as "COOL FUEL". It tastes so good while supplying lasting energy and giving your brain a boost. Because it is full of omega-3 fatty acids, which are an essential part of your "brain food", it supplies brain cells the necessary fuel for mental alertness and quick recall. Your body doesn't make this acid on it's own so it has to rely on getting it every day through your daily food supply. Other Omega-3 rich foods are salmon, flaxseeds, walnuts, kale, spinach and salad greens.
Chia seeds are a rich source of soluble fiber which keeps your body clean on the inside and running smoothly, while the protein keeps your muscles healthy and strong on the outside. The many bioavailable vitamins and minerals helps to keep your immune system in check helping to ward off any passing colds or flu. EATING RIGHT ALLOWS YOUR BODY TO WORK AND PLAY HARD……Bon Appetite'
*Vary pudding flavors by adding a touch of cinnamon or raw cacao or cocoa powder*