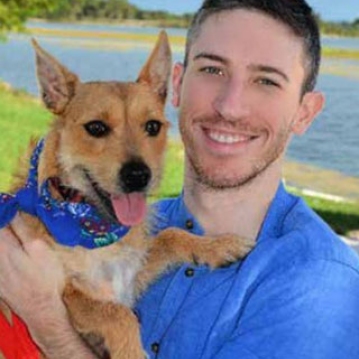 Sophie, a rescued Schnauzer succumbed to a rare genetic disorder last February. She was only six years old, and this left her human despondent. Josh came apart at the seams. He said goodbye to one of his closest friends, someone he had met through World of Warcraft nearly a decade before. The unexpected loss of Sophie was overwhelming for him. Already struggling with mental issues, he was calling it quits.
After attempting suicide, Josh spent 10 days in psychiatric care, followed by 60 days in residential treatment. The first day of group therapy, he walked into the auditorium. On a shelf was a picture of a dog, and below was an urn with an inscription: In Loving Memory of Sophie. "Could this be a cruel joke?" Josh thought. "Or some type of exposure therapy?" This Sophie, a longtime therapy dog, had provided patients, visitors and staff with unconditional love and care – just as Josh's beloved companion had done for him. Even though her loss was still unbearably painful, Josh knew good things were happening to him and for him.
While in treatment, Josh came to the realization that he didn't actually want to die. His life needed to drastically change, but he didn't know how to do that. Pieces began falling into place. He could honor Sophie and show his appreciation to the close-knit gaming community. Aware of the financial struggles that most animal rescues face, he saw a way to help, while reaching out to gamers suffering from mental health issues. Paws Your Game was borne, inspired by that WoW friend – and, of course dear Sophie.
Annually, 30 million people apply to adopt an animal companion. Six million animals enter shelters. Yet a third of them are euthanized. Unnecessarily.
One percent are unadoptable due to behavioral issues (liability), or illness. Numbers don't lie. Healthy pets, including very young animals lose their lives every day due to overpopulation.
Paws Your Game's mission is to provide reputable shelters, rescues and animal sanctuaries with resources. Through video game marathons hosted by Paws Your Game, awareness, funds and information are raised. This can all help to end unnecessary euthanization, showcase adoptables, and increase the number of foster homes, giving more pets the chance at happiness and homes they deserve.
Adopting Sophie was the best thing Josh ever did. She gave him a reason to get up in the morning, a reason to fight the burning question, Why was he here? When Sophie left, the gaming community kept answering. Animals are the reason many people keep going, especially those with mental issues and illness.
Paws Your Game will benefit animals, with:
• IRL and virtual gaming events, marathons, and adoption events

• Funding for nonprofit, no-kill animal rescues and sanctuaries that allow fosters and facilities to assist more animals
• Raising awareness for the connection of mental health and pet guardianship (including fostering)

• The ability to share stories in hope of inspiring pet owners/lovers, gamers and those affected by mental issues

• A Paws Your Game directory with approved organizations aligned with PYG cause/mission

• Website and donation portal to enable people to donate/host a Paws Your Game tournament

• Blog with news and information including mental health awareness, animal welfare, adoption stories, and member profiles

• Resources on reputable shelters, rescues, veterinarians, local events, discounts on pet supplies and more There are two kinds of people: those who watch things happen, and those who make things happen. Paws Your Game's mission is to make unnecessary euthanizations a thing of the past, and continue the discussion on mental health awareness. All living things have purpose and value. Paws Your Game: Everyone wins (especially the animals).