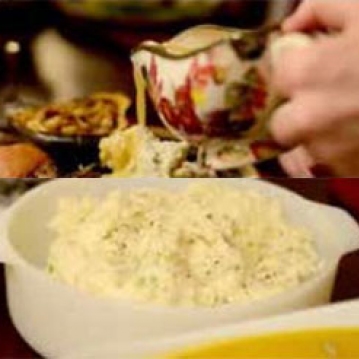 These delicious recipes will please every palate giving everyone - including animals - something to be thankful for this holiday season.
ROASTED GARLIC GRAVY

• 1 head garlic

• 1 tbsp. 1 tsp. olive oil

• 1/4 cup flour

• 2 cups vegetable broth

• Salt and pepper, to taste
• Cut off the top of the garlic head, exposing the tops of the cloves.
• Drizzle 1 teaspoonful of the olive oil on top and place in a garlic roaster (a small baking dish or a section of a muffin tin covered with foil also works).
• Bake covered at 375°F for 1 hour, or until browned and soft. Remove from the oven and let cool.
• Remove the garlic cloves from the head, place in a bowl, and mash well with a fork.
• Heat the remaining olive oil in a saucepan over medium heat. Add the garlic and flour, whisking constantly, until lightly browned. Add the broth, continuing to whisk, and bring to a boil.
• Season with salt and pepper and serve with mashed potatoes, faux turkey, or any other dish that needs a savory upgrade.
Makes 6 to 8 servings
CREAMY MASHED POTATOES

• 5 large potatoes, peeled and diced

• 1/2 cup raw cashews (optional)

• 1/4 cup water (optional)
• 1 cup nondairy creamer
• 2 tbsp. vegan margarine
• 1/4 cup fresh chives, chopped

• Salt and pepper, to taste

• Place the potatoes in a large pot and cover with water. Bring to a boil and cook for 20 minutes, or until tender.
• Blend the cashews and water until smooth.
• Drain the potatoes and place in a bowl with the nondairy creamer, vegan margarine, chives, cashew cream, salt, and pepper. Mix until smooth. Serve with your favorite gravy.
Makes 6 to 8 servings
---
Recipe courtesy of People for the Ethical Treatment of Animals (PETA) which is the largest animal rights organization in the world with more than 6.5 million members and supporters. Visit PETA.com for more information.