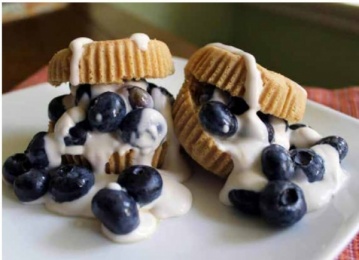 Perfect for a decadent breakfast or a delicious dessert, these vegan blueberry shortcakes are simple to make and very affordable. If you're pinching pennies, don't skimp on flavor and health – just get creative and plan out your meals to get the most bang for your buck. This simple recipe comes out to just about $1 per serving. Not a huge fan of blueberries? Try tweaking the recipe by substituting another fruit like strawberries, peaches or raspberries.
Recipe courtesy of People for the Ethical Treatment of Animals (PETA) which is the largest animal rights organization in the world with more than 6.5 million members and supporters. Visit PETA.com for more information.
Ingredients
• 1 1/2 cups all-purpose baking flour or wheat flour

• 1 tbsp. cornstarch

• 1 tbsp. flaxseed meal
• 1/4 tsp. salt

• 2 tsp. baking powder

• 2 tbsp. coconut oil
• 1/4 cup sugar
• 1 cup water
• 2 tbsp. vanilla extract
• 2 pints fresh blueberries
• 3 tbsp. maple syrup

• 2 cans chilled full-fat coconut milk

Preparation

• Preheat the oven to 350ºF.
• Line a muffin tin with paper cupcake liners and set aside.
• Mix all the dry ingredients together in a large mixing bowl.
• In a small saucepan, melt the coconut oil, then stir in the sugar, water, and 1 tablespoon of the vanilla extract.
• Add the wet ingredients to the dry ingredients and whisk together.
• Pour the batter into cupcake liners, filling halfway full. Bake for 15 minutes, or until golden brown and a toothpick inserted in the center comes out clean. Remove from the oven and let cool completely on a wire rack.
• Toss the blueberries with 1 tablespoon of the maple syrup in a medium-sized bowl.
• Open the cans of coconut milk and pour off the liquid, reserving the thick cream. Place in a separate bowl and add the remaining maple syrup and vanilla. Whisk together well.
• Remove the shortcakes from the paper liners and gently cut in half, forming a top and a bottom. Spoon the coconut cream generously over each bottom. Top with the blueberries, then more coconut cream. Cover with the shortcake tops and enjoy!
Makes 6 to 12 servings