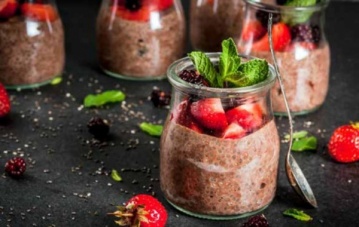 Chia seeds are a new favorite superfood. Rich in amino acids (it's a complete protein!), zinc, fiber, calcium, and B vitamins, you can feel good about indulging in this treat. And because chia seeds absorb 10 times their weight in water, you'll feel fuller for a longer period of time, which is great if you're trying to stop snacking on junk food between meals. Chia seeds can be purchased in bulk online, and you can also find them in the bulk bins at most local and national health food stores.
Simple, six ingredient chocolate chia seed pudding that's naturally sweetened and so thick and creamy. Loaded with nutrients for a perfect breakfast, snack or dessert!
Servings: Four cup servings
Ingredients
• 1-1/2 cups almond milk, unsweetened
• 1/3 cup chia seeds
• 1/4 cup unsweetened cacao
• 3-5 tbsp. maple syrup or 5-9 Pitted Dates
• 1/2 tsp. ground cinnamon (optional)
• 1/8-1/4 tsp. Himalayan salt
• 1/2 tsp. vanilla extract (preferably non-alcohol)
Instructions
1. To a small mixing bowl add cacao powder (sift first to reduce clumps), maple syrup, ground cinnamon, salt, and vanilla and whisk to combine. Then add a little dairy-free milk at a time and whisk until a paste forms. Then add remaining dairyfree milk and whisk until smooth.
2. Add chia seeds and whisk once more to combine. Then cover and refrigerate overnight or at least 3-5 hours (until it's achieved a pudding-like consistency).
3. Leftovers keep covered in the fridge for 4-5 days, though best when fresh. Serve chilled with desired toppings, such as fruit, granola, or coconut whipped cream.
4. If blending instead of whisking, add all ingredients to a blender except chia seeds and blend until completely smooth and creamy, scraping down sides as needed. Add chia seeds afterwards and pulse slowly until chia seeds are mixed thoroughly in the creamy mixture.
Serve chilled with desired toppings, such as fruit, granola or coconut whipped cream.
PETA : Recipe courtesy of People for the Ethical Treatment of Animals (PETA) which is the largest animal rights organization in the world with more than 6.5 million members and supporters. Visit PETA.com for more information.