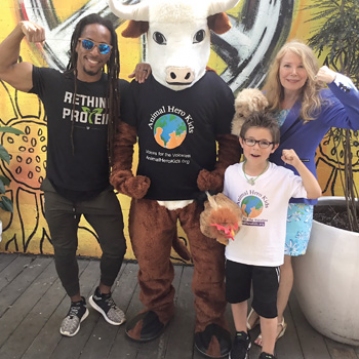 Here we are again in the month of April when good intentions from Earth Day events will resound around the globe. Animalherokids. org kindness education and vegucation programs like "Eating as if the Animals and Earth Matter" are presented for all ages and at all times of the year.
This is the first year the Animal Hero Kids Vegan MacnCheeze Challenge to Save the Earth! will be held on Saturday, April 13 at 5:30 p.m. at Green Bar & Kitchen in Fort Lauderdale with plant powered athletes and Animal Hero Kids ranging from ages 8-13 years of age judging the scrumptious vegan MacnCheeze entries. Thanks to challengers Green Bar & Kitchen, the New Vegan and Juice Restaurant, Ohm Woke Meals, Vegan Fine Foods, Veg Eats Foods, and Vinos at Galt Mile. SoFlo Vegans are a collaborative partner for the benefit. Each ticket gives you an audience judging ballot and gifts an "Animal Hero Kids Voices for the Voiceless" book to each school library after every free school presentation.
Left to right: Plant Powered professional body builder, Torre Washington, Ronnie V Cow Animal Hero Kids Vegucator- AKA Sean Russell, Lovey, rescued-from-thepound dog who helps give presentations at schools, Animal Hero Kids President, Vegan Evan and Susan Hargreaves, founder of Animal Hero Kids. Photo credit: Animalherokids.org
Six Ways the Animal Hero Kids MacnCheeze Challenge Can Save the Earth!
Why Vegan Fare equals Eco-Fare
1. CLIMATE CHANGE
Animal agriculture is responsible for more greenhouse gases than all of the world's transportation systems combined. The United Nations urges a shift to a vegan diet to combat climate change.
2. FRESH WATER
It takes 2,400 gallons of water to produce one pound of meat. It takes 683 gallons of water to produce just one gallon of milk.
3. LAND USE
It takes almost 20 times less land for someone to be on a vegan diet than it does to feed a meat-eater. The crops are eaten directly by a vegan rather than the grain being fed to animals.
4. GRAIN RESOURCES
It takes 10 pounds of grain to produce one pound of meat. Seventy percent of grain grown in the United States is fed to animals in feedlots.
5. AIR POLLUTION
The Environment Protection Agency estimated animal agriculture is responsible for 50-85 percent of all man-made ammonia vapors in the United States.
6. ENDANGERED WILDLIFE
Deforestation, drought, climate change and pollution. Cattle are grazing on 270 million acres of our public land in 11 western states (and counting). These factors all contribute to decreased wildlife populations. Over 175 threatened or endangered species are imperiled by livestock on federal lands. At the request of ranchers, "wildlife services" kill keystone species like wolves, beavers, foxes and bears.
WHAT IS THE HAPPY NEWS HERE?
The happy news is that three or four times every single day you can choose to take the most powerful step possible to help the earth, in any month of the year: Eat vegan. Hey, why not start by eating vegan MacnCheeze?