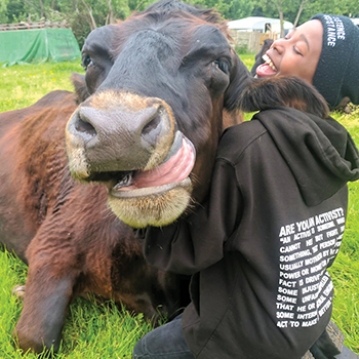 Animal Hero Kids, the kindness education youthempowering charity is planning an in-person uniting of active youth from around the United States! The summit event will enable kids and teens to share with each other how they are effectively helping other animals in their own community. The event is free to youth, educators and parents, and is hosted by Balance for Life.
The evening awards segment will be a ticketed event; potential sponsors are welcome to contact us. https://animalherokids.org/sponsorshipopportunities/ If you wish to nominate a compassionate child or teen, an individual or a group for an award, please nominate on animalherokids. org.
Youth Who Care About Animals Speak Up Globally
In my work as Animal Hero Kids founder, speaker and educator, I am fortunate to meet compassionate and courageous youth everywhere I travel. I am constantly hearing about animal hero kids and teens who are speaking up in their own communities.
The cornerstones of Animal Hero Kids' mission are to educate, empower, activate and recognize youth globally. I watched the video of one such girl speaking to thousands at the Animal Rights March in London; the crowd cheered on this determined, eloquent teen. Aiyanna began her activism at 11 years of age, after she and her mum learned about how other animals are really treated.
Aiyanna doesn't let her age hold her back from being boldly active so that other animals are not harmed. Here's her message in her own words.
I speak for animals and advocate for liberation because they deserve the respect and justice humans deny them. You are never too young or old to show compassion. Your age has nothing to do with kindness in your heart. We can always learn for ourselves, we can always strive to do better and help others. Age is but a number. If you have a voice use it. The animals need your help. If you were in their position, you wouldn't care how, you would just want to be saved; you wouldn't care who saved you, you would just want to be saved by someone. One person can save a life, it only takes one person to inspire change. Every time you choose the vegan cookie or shampoo or shoes, you are helping, because you are showing companies, family and friends that you don't support exploitation, and they will think and change, too.
It is precisely this type of heroism that helps fuel my 40-year-so-far quest to help other animals, and to amplify the far-reaching phenomenon of a message resounding around the earth: youth saying just because it's always been done this way doesn't mean we have to keep on harming animals, the planet and ultimately, ourselves.