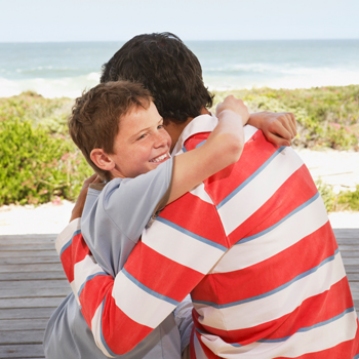 Not so long ago, a father's job was to bring home a pay check, cut the grass, fix things when they broke, tell the kids when they were misbehaving, and in many instances, be the disciplinarian. There was a fairly strict dividing line between the roles of mothers and fathers. Now it's different. Families have changed in the past few decades and parenting roles are evolving.
Today, there is a much greater emphasis on a dad's influence in his child's life. Research has shown that the involvement of a father is associated with several positive characteristics in children such as increased empathy, self-esteem, self-control, confidence, psychological wellbeing, social competence, life skills, educational success, and a reduction in gender-stereotyped beliefs.
Anastasia Moley, Early Childhood Development Specialist, writes in "The Tot," "The 21st century dad is more involved in the emotional support of his family than his father was, and much more so than his father's father. Now, beginning with the pregnancy and birth of the child, dads play a more hands-on role. From attending doctor appointments, to being a labor coach during delivery, and helping with night-time diaper changes, dads are stepping up their game."
Roland Warren, President of the National Fatherhood Initiative, a nonprofit organization dedicated to promoting responsible fatherhood, acknowledges that "Historically men are good at knowing that they need to be the provider, but with shifting roles most dads today understand that it is not enough to just provide, but they must also nurture and guide their child's development."
Dads are definitely adding to the nurturing of their children on a dayto-day basis. Psychological research from the American Psychology Association suggests that, "Across families from all ethnic backgrounds, dads who are actively engaged with their families help to promote their children's social and emotional development."
Add one simple component so everyone will benefit: Dad, be sure to say, I Love You to your children!
If you are reading this article and you have yet to tell your own dad that you love him, please, go ahead and break with the old tradition – call him or text him and be sure to say I Love You! And if your dad is no longer here on earth, please go ahead and think of him today and say, out loud, Dad, I Love You!
May this Father's Day be the inspiration to share love and appreciate the men who have paved the way for fatherhood to be celebrated, and for our chromosomal connection to the wonderful XY in your life!