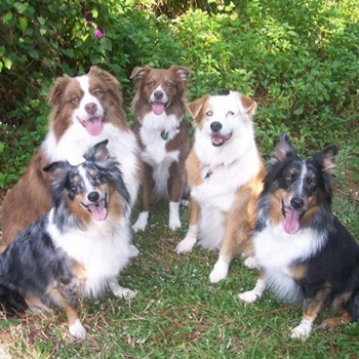 Ten years ago we had five full-sized, Australian shepherds – all rescued. Looking back, I wonder, how did we manage?
Feeding, exercise, training, individual attention, bathing, etc. Our annual vet visit was scheduled for the first appointment of the day, to avoid our pack's parade and interaction with a full reception area. We bought a full-size SUV to accommodate our furry children when we went on trips. We traveled to Jupiter Beach, St. Augustine, Ocala, Naples and The Keys. As the AussieFest chairperson for many years, the AusSiebelts were well known in Jacksonville and Gainesville. Could we manage a pack of five rescued, big Aussies today? I'd like to think so, but honestly no. Our schedules, patience and energy levels are not what they were back then. Times change.
Aussies (along with most herding breeds) are NOT for everyone. They are amazingly intelligent, require daily mental and physical stimulation, and need to be managed around small kids. Herding dogs herd. Little feet (human or hooved) moving quickly trigger this instinct. You are not going to train it out of their DNA. Heels can be nipped, and a young child will lose their balance, fall, and possibly be injured. This is exactly why many herding rescues are wary of adopting out to families with children under 12 years old. Like any dog, if their minds and bodies aren't properly exercised, they can become destructive, aggressive and/or depressed. It doesn't matter that you "had one growing up," or "had this dog since it was a puppy," or "watched a training series on TV/ YouTube." Today's dog is not the one you had back then. What you remember probably isn't as accurate as you'd like to think. Like people, dogs are individuals. Things change.
After sending their mid-teenage senior dog to the bridge, a friend wasn't sure she'd ever be ready for another dog. If and when the time's right, I will help you find the right RESCUED dog, I assured. She is single, still works, and not physically active. Like most of us mature adults, she is set in her ways, and has had some health issues. Aware of her personality, routine, travel plans and activity level, I suggested a calm dog, three to five years old, up to thirty pounds (HOA rules). Candidates sashayed through my email and social media feeds. I forwarded her ones that fit the bill.
She would feel a spark when one caught her eye, and she'd be saving a life.
Months rolled by. Excitedly, she informed me that she had found a reputable breeder and given a deposit. "So, what do you think?" she excitedly asked. Sounds like a recipe for disaster is what I wanted to say. Knowing you get more dogs with jerky than sarcasm, I have gently attempted to talk her out of this decision. Reminding her that having had a senior dog, she is not used to exercising, let alone taking an active dog on (at least) two daily walks; factor in a puppy's energy level, chewing, housetraining and barking. In addition, she is vehemently against crate training. What plans will be in place should you become no longer able to properly care for the dog?
"But isn't the puppy picture adorable?" she gushed.
Pup arrives next month. Buckle in, buttercup. It's going to be a bumpy ride.
Let's be brutally honest. We aren't who we were 10, 20 or 30 years ago. Times, things, people, situations change. Ask a trusted friend for their no-holds-barred opinion, and really LISTEN to what they are saying, in your own best interest.
Reality doesn't have to bite, if we are rational and truthful about our physical, mental, financial, scheduling etc. capabilities. Make the right decision. Not just because you want/can afford a cute puppy, and it will be so fun. You'll avoid headache, heartache and be doing yourself, your family, your community and the dog a huge favor.