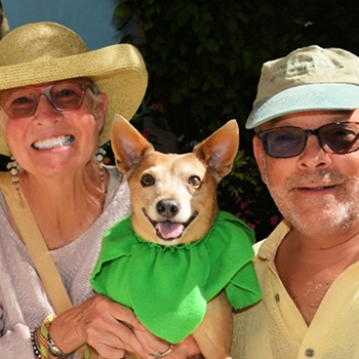 Having a dog is a big responsibility. Aside from being able to leave them home alone, there are not many differences from having a child. For some of us, our dogs ARE our children.
Dogs deserve the best food, fresh water, shelter from the elements, training, guidance, boundaries to ensure their health/ well-being/safety, veterinary care and daily exercise (physical and mental). This last item comes with a huge bonus. We benefit from daily walks, 20-minute minimum, twice a day, elevating your heart rate to burn off energy and calories. It is time well spent with man and woman's best friend. I think of my dog time as a walking meditation, time to disconnect from worries and work. My phone is along in case of emergency or to take a quick pic of nature we may encounter, but I do not listen to music, take calls or text during their time. Dogs wait all day to spend this time with us, and deserve our undivided attention.
Maybe you don't currently have a dog – can you borrow one? Ask a friend, neighbor or family member. They might appreciate you taking their pup out. Our single guy friend would take one of our dogs on a walk and tell us, "This dog is a chick magnet!" I've photographed weddings where they met at the dog park, or through a dog activity (barn hunt, lure coursing, fly ball, agility).
During our walking meditation, we are open to all the sights, scents, and sounds we may encounter, whether we enjoy a stroll around the lake at the park, or venture into a new area. Dog people are attracted to dogs, and their people. We might just wave, say hello or agree to let the dogs meet, while watching their body language for cues, while we inquire about the furry family member.
On a Saturday morning, my spouse and the love of his life, Katie (a black trirescued Aussie) set out for the park before me and the littles (a Yorkie and a Pom, both rescued). He met a lady and her Whippet-terrier mix, Jaxson. The dogs hit it off well, so the humans walked and chatted. Wendy, her husband Al and Jax were vacationing from upstate New York. They were Airbnb-ing right off the park. Jaxson was also rescued and is quite the agility aficionado, back at home. Our paths crossed again at the park. I invited them to the Worth Avenue Pet Parade, which I always photograph. They came, enjoyed the festivities and strolled Worth Avenue – Palm Beach style. We would text each other and meet at the park daily. A friendship was forming. Aside from being devoted parents to rescued rovers, we all enjoy the outdoors as gardeners, and the guys like fishing. Both couples have been married 30-plus years. The dogs got along well, and the conversation was nonstop fun.
Their vacation was concluding, but they still had not seen the beach. So we picked them up and took them to our favorite spot for sunset. The next evening was to be their last before the long drive north. We had a light dinner at their vacation house. Jax liked being the only dog there. It was a lovely evening filled with laughter and more dog stories. It went by so quickly. We bid our farewells, so they could finish packing. Jaxson got a new bandana and angel charm for his collar, from his new Florida friends. Al and Wendy received a care package and snacks for the road. We have emailed and talked on the phone a few times since they returned home. You can meet the nicest people walking a dog.
Note: For everyone's safety, always use a standard (4-6') lead, never a flexi or retractable leash.