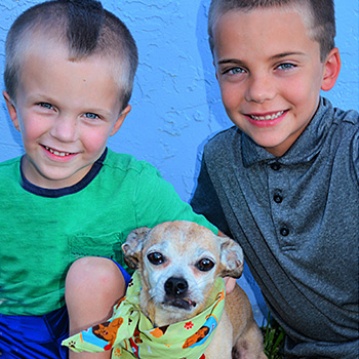 But you didn't have the time/ energy/finances; your living situation didn't allow pets, or the time wasn't right. Your kids have been begging for a dog, and are old enough (ages five and up) to take on some responsibility.
Fast forward. Any above concern has been alleviated. You're ready to open your heart and home. Set yourself up for success, with this pawto-heart conversation.
How much preparation, money, time, and energy does it really take to have a dog? First, the hard questions. Be honest:
• Are there pet restrictions (breed, mix, weight) where you live? Do you rent or own?
• Rain or shine, can you devote at least 90 minutes per day to feeding, walking, cleaning, grooming, playtime, etc?
• Is there a designated area in your home for the dog's bowl, crate and bed? Are your home/yard safe?
• Have you set aside a minimum of $1000 annual bud get for a small/ medium-sized dog? This does not include emergency care. A bigger dog requires more food, more space, longer walks, bigger scooping, more exercise = more expense.
• Who will watch your dog if you go on a trip? In case of hurricane evacuation? If you are unable to properly care for/provide for your dog? If YOU expire, what happens?
How dog-savvy are you/your kids?
I'm always amazed at people's lack of dog skills, or unwarranted fear of dogs. Do you/your kids know how to correctly approach a dog? Ask permission from the owner to interact? Know polite, dog-welcome body language/ sounds to avoid being bitten? Can you all respect a dog's personal space?
Opt for a young adult dog

Puppies require lots of time, energy, patience and training. Personality traits are known at 9-12 months old. Bonus: dog is done teething, house and leash-trained. Your rescued dog is going to bond with you when you care for them, treat them with kindness and uphold boundaries. Don't think this only happens with puppies.

Breeder, Rescue or Shelter?
I am a lifetime proponent of "adopt, don't shop." That being said, one of my best rescue pals breeds and shows Aussies. The time, energy and expense as a long time, knowledgeable, reputable breeder is staggering. Her puppies are spoken for, prior to birth. Not everyone that can afford one of her pups gets one. She carefully screens prospects, and has a contract that if the dog cannot be cared for, it must be returned to her.
Set on a specific breed? Plan on spending $1000-plus. Thoroughly investigate in-state breeders. Some show/breeders retire young dogs, and are looking for companion homes.
Avoid temptation. DO NOT enter puppy stores. The majority (if not all) of their inventory is from out-of-state puppy mills. When you buy from them, you support misery, and risk genetic defects, high vet bills and heartbreak. Caveat emptor – buyer beware.
Shelter

Some shelters offer no-cost adoptions (high return rate). Free has little to no value, if s/he runs away, gets injured, etc. Strays, owner surrenders, and dogs bailed out from animal control can be found at shelters and local humane societies. Most of the time, their history is unknown. The dog could have been returned multiple times, be an escape artist, have injured/killed another pet, have health, bite or aggression issues. Is that a wheel you want to spin? Unless you have taken canine behavior and/or training classes, and are up for a challenge, stick to a local reputable rescue.
Breed-specific Rescue Groups

Aside from saving a life, there are multiple benefits from choosing this route. Almost every breed has a rescue organization. Most reputable rescues have dogs IN foster homes for three to six weeks. They KNOW THE DOG, medical, quirks, and the best type of home for each individual. Listen to them. Adoption fees for a rescued dog average $175-$300. They have been medically checked out, spayed/neutered, microchipped, and are up-to-date on shots. Your rescued new family member is primed to join the right household.
Be patient. Understand this is a process. The right dog is out there, dreaming of you. Fill out an application FIRST. Email a copy to yourself. Unless requested, do NOT call or email the rescue. Do your due diligence – it pays off in the long run. Remember most rescues are run by us volunteers.
Best wishes, and bark if I can be of assistance!