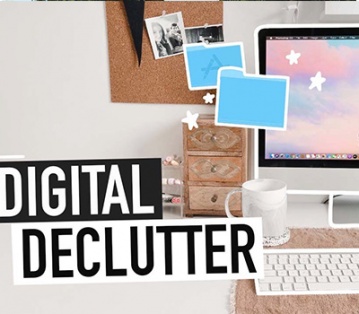 It's a new year – now what?
What else is there to declutter that I haven't touched upon in the past 12 months? Aha! I realized as I was decluttering old emails this morning… Let's focus on clearing out old emails and organizing our computer You may have been saving your gmail emails (since google storage is virtually unlimited)… and then you realize, I have WAY TOO MANY leftover emails on my computer!
That used to be me – now I keep them under 50 or so. For January: New Year, new you. Here are some timely tips on how to clear the electronic clutter from your computer.
1. DESKTOP – If your desktop looks like a cornucopia of files, folders, documents and pictures, why not take a closer look and CONSOLIDATE your subjects – create folders and then drag and drop individual files into the folder. Name them, own them, and double click on them for access.
2. EMAILS – Here's the thing. Some we open, some we delete and some, well, we just ignore.
Using my S.M.A.R.T. system (APlusClutterClearing. com) begin with the right attitude, the right mindset for action. Start with a fave drink: coffee, tea, or something a bit stronger. Then go through your latest emails and revisit some, delete others and act on the "oops I forgot" emails that require attention. Before too long, you'll be into ancient history and deleting unwanted mail like crazy.
3. EMAILS 2 – Using keyword searches for reference mail, type in, for example, "New York Times," and all your past emails will show up together. Click the delete all (on the page) box and in a snap, you've rid yourself of past articles that no longer interest you. Clearing old Google Alerts in the same manner reduces your overall emails in a hurry, freeing up your mind, taking charge of your files and data, and alleviating any stress this overload may have caused. Repeat this with all your SPAM email. Clear the Clutter….
4. PICTURES – Guilty as charged… thanks to my Mac's amazing storage capacity, I've collected over 32,000 photos (all gems no doubt!) They sit there and don't bother anybody, but when we get down to it, what's the point? Start anywhere, and delete silly photos, bad photos, and duplicates. Clear the clutter… Clear the mind!! You may even find some photos to share with family and friends for extra bonus connection points!!
5. EXTERNAL BACKUP – Before it's too late, get yourself an external hardrive for backing up your computer. The backup helps you sleep better, knowing all your data is protected outside the PC. "My Passport"stores something like three terabytes, more than I need for sure. Do this on a regular basis and you'll have greater peace of mind.
6. LOCATION – As we embark on the New Year, with new plans and new dreams, consider where you do your best work. Is it on a desk in your home office? On the kitchen counter? On a bed? In front of the TV on the couch? Wherever you are productive, in my view, is a good place to work… with one exception. I discourage business work on a laptop or PC in the bedroom – serenity, dreaming, romance and business don't mix well together. Better to separate work from play, brain activity from heart activity. Wherever you make your workspace base camp, be sure to have good lighting, a comfortable chair and storage for paperwork, bills, million dollar proposals and the like.
Here's wishing you the best possible year of health, inspiration and love. Contact me with any questions you may have. Clear the Clutter… Clear the Mind™