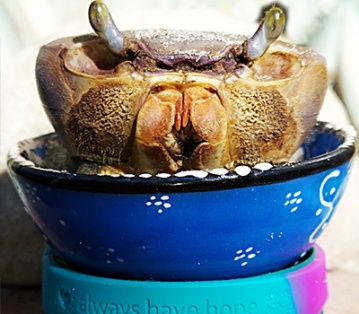 I often extol (some say rant) about the importance and benefits of daily walks, for us humans and our canine companions. As improved health, fitness, weight loss, socialization, fresh air and sunshine boost our immune systems, abundance awaits, tangible and intangible. You never know what treasures you will find while out walking a dog.
Seasonal scents, wafting from jasmine, pine or Hong Kong orchid trees travel on cool breezes. Listen for the call of an osprey, kestrel or enjoy a songbird serenade. I love to walk barefoot in the cool wet grass, in the mornings, gaining benefits from earthing (Google it). A rare Julia butterfly once fluttered along, alighting upon my shoulder. I have found injured animals, lost pets, pretty flowers, unique natural findings (sticks, rocks, shells), and even lost jewelry; but there will never be anything that compares to what I recently found.
Just north of Delray in Gulfstream on October 29, I began house and dog-sitting for friends for a few days. Handsome English cream golden retriever, Racer and I had rounded the corner toward home, completing our afternoon walk. I noticed a weird rock just off the road; except it wasn't a rock, nor was it a rock lobster (dating myself here). It appeared to be a crab - BUT without any limbs.
Alert and the eye stalks moved, I could not just leave him there to die alone and helpless. The first name that came to mind was Herbert. There had been a commercial lawn crew in the area all day. I assumed he had attached himself to the rotor when the mower stopped. The limbs were all cleanly severed, and already slightly calloused over.
As Racer enjoyed his dinner, I propped Herbert upright. Quite the voracious diner, he enjoyed pineapple, baked butternut squash and soaked kibble.
Google revealed this was a native species, a blue or giant land crab, Cardisoma guanhumi. Made a TikTok about this unique finding. It went viral. The next morning, I called two local nature centers, but neither could take him. The prognosis was grim.
We made a couple more TikToks. People from around the world were welcomed aboard "crabtok." Due to the shape of her apron, "crabologists" noted Herbert was a lady crab! Her fans insisted on keeping her name. Thousands of people quickly became emotionally invested in her healing journey of luck, perseverance and hope. We get so many wonderful messages, including:

"Welcome to reCRABilitation" "HERbert the crab is the antidote to 2020"
"HERbert and her mom always make my day"
"This crab is the only thing keeping me going right now"
"Restoring my faith in humanity : Tina and HERbert"

HERbert and I give updates (chapters) and share many inspirational ideas. We made a new friend, Evan Orellana at Sandoway Discovery Center in Delray. We visited and he shared great info, as HERbert had a snack. We visited my vets, Drs. Scott and Kristy Lund for their input. I sought out Dr. Don Mykles at Colorado State University, who heads the "crab lab." He was so informative and kind during our online interview.
We adopted the mantra of "always have hope," came out with wristbands and requested merch (pins, magnets, stickers), with a portion of profits to benefit marine rescue. My TikTok account escalated from 4k followers/50k likes to over 125k followers/1.5 million likes in just a few weeks.
HERbert caught the attention of German TV (got paid 100 euros, $118), was featured on Daily Dose of Internet (November 5), and Right This Minute (November 20). The Coastal Star newspaper also did a full-page feature on us in their December issue.
Even though blue land crabs are naturally extremely elusive, HERbert's adventures can be easily found on TikTok, Facebook on the reCRABilitation page, and on YouTube (Tina Valant). Several teachers are using HERbert's journey for distance learning, as it's family-friendly, fun, informational and best of all: filled with hope.
Will she continue to thrive, be able to molt, and eventually be released? On this astonishing rollercoaster ride known as 2020, neither HERbert nor I know what the future holds. What I am sure of is that what Racer and I found that day on our walk has brought immeasurable value and JOY to my life, and so many others. HERbert's appetite is good and her nublings are sprouting. So for now, always have hope, and simply just take one day at a time.