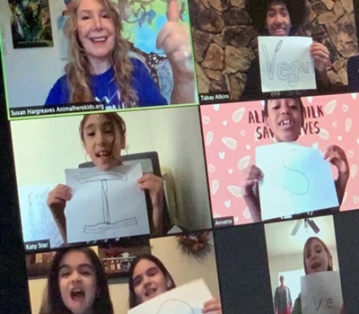 Here's my vegan Valentine gift for you, the Be an Animal Hero Vegan Guide! It's so easy today to be an animal hero by going vegan. Lovey, the 18-year-old rescued canine who narrates the newly released "Veganza Animal Hero" story I wrote said it best:
"Veganza, the Animal hero, knew you would care, be kind and grow plant-powered strong.
Yes, Veganza the empowering animal rescuer knew she definitely was not wrong.
Will you consider the earth and we animals, too?
Because if you do not, who will, will you?" – Lovey

Three Easy Steps To Go Vegan
1. Replace animal products with plant based products.
There's a saying many of the younger Animal Hero Crew members with animalherokids.org say:
"Anything you can do I can do vegan."
Today this is a statement of fact. You don't have to give up scrumptious tastes, comfort foods and the long-held association with the foods you may have grown up with, it's easy to simply replace them.
Yes, You Can Still Drink Milk. Almond, Soy, Oat, Coconut, Cashew… Milk.
Business Wire reports plantbased milk sales will surpass $21.52 billion in 2024. Oatmilk just saw a 686 percent increase in one year. These facts and more prove consumers are choosing kinder, healthier ways and more environmentally responsible ways to shop and to eat. Choose your favorite plant milks from the plethora of products that exist today in your local grocery store.
I enjoy real English Yorkshire tea in the morning and do not want anything sweet in my tea. I choose the Silk Unsweetened soymilk – not to be confused with the plain flavored soymilk. Those who enjoy coffee love the Silk Creamer, and many use almond milk for their lattes. Oatmilk is fast becoming many peoples' faves for cereal, hot chocolate and smoothies, Vanilla is my fave flavor for cereal.
Happy Cow Cheese is Vegan You may have seen the ad about happy cows, the truth is mother cows have their babies taken away at birth, so the industry can profit from the milk created for their babies.
The vegan cheeses not to miss are Daiya Cheddar cheese slices, which are really good for grilled cheese, Miyoko's Artisan garlic and herb, Tofutti Better Than Cream Cheese Plain flavor, Follow Your Heart Smoked Gouda, and Kite Hill cream cheese and chive.
Beyond Eating Animals Beyond Meat, Impossible, Tofurky, Gimme Lean and Gardein are just a few of the choices of compassionate replacements for your table. When I presented animal abuse investigation workshops for police, fireman and animal control officers, the only complaints I received about the workshops were regarding the vegan lunch – the officers were accusing others of taking too many Gardein crispy tenders in the lunch line!
2. Adopt the Four Food Groups.

Would you believe two-thirds of American adults and one-third of children are overweight or obese?
The Physicians Committee for Responsible Medicine is an independent group of over 16,000 doctors. Their messages are free from any financial support by the pharmaceutical industries or other industries that may have a vested interest in your consumer dollar. PCRM doctors recommend the nutrient-rich four daily food groups: fruit, vegetables, grain and legumes (legumes is a fancy word for beans, peas, lentils). These food groups are dense in fiber, calcium, nutrients and minerals. Check out PCRM.org for free resources.
3. Educate Yourself.
This step does not have to happen last. Today it is so easy to research what is cruel, environmentally destructive, or unhealthy about animalbased products. Vegancalculator.com tabulates how many animals, trees, and fresh water you save depending on how long you are vegan. In 1980, I read an article about an undercover investigation in a slaughterhouse in the Toronto Sun newspaper. When I looked at the accompanying photos, what I saw changed my life. Today it would perhaps be a documentary, a news report about undercover cruelty investigations, or even an Animal Hero Kids video a person would see to educate themselves about what is really happening.
If you would like a customized-tograde-level or interest education program like "Eating as if Animals and the Earth Matter," click on the education tab at animalherokids.org.