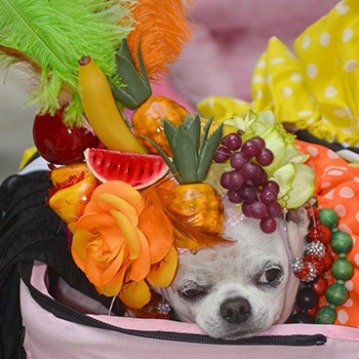 Think of your favorite meal.
Tuna casserole is my comfort cuisine. Any time I make this, it takes me back to family meals with my siblings in our childhood home in Coconut Creek. It's a bowl of happiness. As much as I love it, I sure don't want it for every meal, day in and day out. I imagine our dogs also get tired of the same fare. There are a few staples in my canine cupboard to offer as morning fare, treats, or toppings.
Apples - chocked with phytonutrients, vitamins A and C. Chop raw apples into bite-sized pieces, or grate. Skin is ok, but NO seeds or core.
Bananas, Berries, Watermelon - an occasional nutrient-rich treat, served in moderation (a slice or two of banana, 3-5 blueberries).
Broccoli and Cauliflower - rich in vitamins, minerals and soluble fiber. Steam, and offer small servings of bite-sized florets (not stems) occasionally.
Carrots - my dogs love raw baby carrots. Their easy size and sweetness conceals vitamin A and fiber. They're higher in sugar than pumpkin or green beans, so if your pooch has a paunch, limit carrots.
Cottage cheese - high in fiber and highly digestible protein. In rescue, we may get a pregnant/ nursing mom in, or a stray who needs to gain weight. A teaspoon for small dogs, a tablespoon for larger is a delicious addition.
Eggs - raw with the shell provide biotin, protein, riboflavin and selenium. Dogs also love a bite of scrambled eggs once in a while.
Green beans - low in calories and high in fiber. Steam lightly and cool.
Oatmeal - a friend gave me a great dog-treat cookbook, except most of the recipes called for cornmeal or wheat flour. By substituting oatmeal (use whole as it is from the container, or grind it into flour), you avoid the side effects/allergies of corn, wheat or soy, and gain beneficial vitamins, minerals and fiber.
Quinoa - (say it: keen-wah) this nutritious seed/protein source (gluten-free) has an added benefit of essential amino acids. Cook extra, sprinkle in your dog's bowl, add fruit/veggies and a dollop of yogurt. Voila! Breakfast is served.
Salmon - an excellent source of omega-3 fatty acids. Poach, steam or bake salmon with the skin. Dogs especially love the skin.
Sardines - (wild caught, packed in water) are loaded with omega-3 fatty acids and coenzyme Q10 (CoQ10). Fatty acids can help to avoid cancers and reduce inflammation, while keeping the immune system in check. CoQ10 boosts circulation and heart function. I reserve the liquid and add it to their morning meal.
When a cat hears me open the can, they await a taste.
Sweet potato - bake, chop and serve your dog an added dose of fiber, vitamin A, and other nutrients.
Pumpkin - high in fiber, vitamin A, and antioxidants, it "works both ways," relieving constipation or the runs. It's good for kitties, too. I always have a few cans of organic canned pumpkin on hand; NOT pumpkin pie filling.
Yogurt - packed with calcium, protein and probiotics, plain yogurt is welcomed by most dogs.
Better than a pupuccino: Mix canned pumpkin and plain yogurt (I like Greek), fill ice cube tray half full. Freeze. Store in a bag or airtight container in the freezer.
A lot of ideas here, but when/how to serve them? Our pack gets breakfast after they go outside first thing in the morning. I usually offer one or more of the above. They go to the park or on the main walk/ swim, by 9ish. Around 2 PM, they get their main meal. This avoids them being underfoot while our dinner is underway. They have useful energy from the calories of their main meal to expend. Bonus: they do their "business" on the walk.