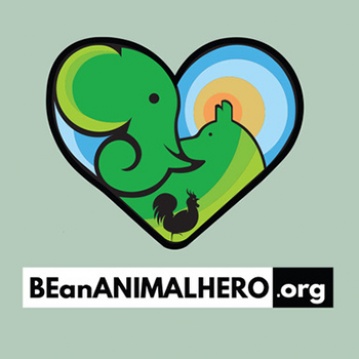 Every year at this time I find myself reevaluating and ruminating on the best use of my experience, resources and skills. It is a cycle, not in a newage type of way, but in a creative way.
The leading question of most of my 61 years is, "How can I help animals in need?" Is there anyone else out there who has had a challenging time staying positive? I am a perennial optimist. Lately, however it has been a struggle. Why? Well, you know why. We did have good news with the George Floyd trial, we do have good news re flattening the curve – now if I can only flatten my curve. The curve of my increase in eating scrumptious vegan desserts late at night has definitely caused more of a curve!
Happy News!
Here's the happy news. We can help all species of animals, we can help each other, and we can, still, help the earth. We do have the power – we have all the ingredients already lined up.
The first one is empathy – we can think of the world through each others' eyes. Fairly easily, we can imagine, "what if that were me?" The second one is education. This is where my 40-plus years comes in. I have been educating in schools and colleges about what is happening to other animals, and how we can help. I am still here, albeit a little older, with whiter hair, yet still determined to continue and expand the reach of my education programs with – drum roll please – "Be an Animal Hero," our new education program collaborating with farm animal sanctuaries all over the globe.
Be an Animal Hero

You, Happy Herald reader, are the first to read about this heartwarming initiative. AnimalHeroKids.org is now sprouting "Be an Animal Hero," a free, summer camp, and online school presentations where the participant will meet rescued farm animals. The student will hear their stories and discover ways they can help animals, geared specifically to their own ages.
An Animal Hero Teen, Josie, and her rescued friend, Franny, are leads in the summer camp program. Josie is an eloquent 14-year-old teen who is helping organize this years' "Be an Animal Hero" summer camp.
This feels to me like one of those EUREKA! Moments, as in spite of the lack of travel, limited resources, not being able to afford an actual sanctuary or a bricks and mortar headquarters, and the negativity of others, we've created a program that will reach all corners of the world.
Few people do not want to be thought of as heroes, whether you help dogs, cats, elephants… or even those two-legged animals – we all wish to do good and be kind, mainly.
The "Be an Animal Hero" program will equip people with the tools to achieve being an animal hero – the first tool is your fork. Pick up your fork and eat vegan food. It is so easy today to replace animal based products with vegan ones, and so very scrumptious too.
Here's more happy news, fresh from the Good Food Institute and Plant Based News. A record breaking $3.1 billion was invested in nonanimal-based proteins in 2020.
Translation: burgers, fish cakes, bacon, hot dogs, ribs, chicken wings… can all be vegan, good for the planet and good for your health.
There's more good news: being vegan for one year can save 365 animals, 10,957 square feet of forest, 401,766 gallons of water, and 7,436 pounds of carbon dioxide.
Find out how you can be an animal hero. Go to Be an Animal Hero.org and click on the Be an Animal Hero tab for free recipes, tips and resources. Join Us!