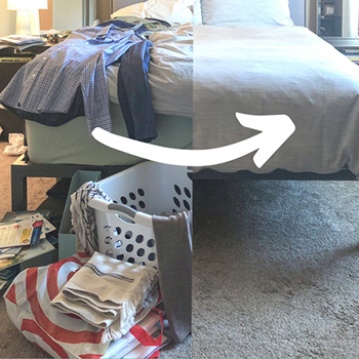 In order to get order around the home, the office, the computer, the car, the purse and any area where you experience
TMS*
(Too Much Stuff), it's important to use my provenin-the-field,
S.M.A.R.T. system
to decluttering, organizing and beautifying your space.
May represents Spring flowers, right? "April showers bring May flowers" and that's just on the exterior of your home. Why not, this month, get your indoor environment in FULL BLOOM by following this simple yet effective system. Here it is all spelled out for you. Do this, and your May Day outcry will be heard.
The S.M.A.R.T. System
(For Decluttering, Organizing and Beautifying your home)

S. Start simply (and simply start).

Choose an area of your home, office, or storage facility that is manageable, a simple area, Like just one box. By doing so, you're preparing yourself for early success in your project.
M. Mindset.
Get yourself in the right frame of mind. Set your mind at ease by: a) Playing your favorite music. b) Preparing your favorite beverage – coffee, tea, or something stronger. c) Wearing comfortable clothing.
A. Action.

At some point you begin. My proven process is to dump a drawer, empty a cabinet, or set all those pens that were in a cup, out and in the open. By dumping contents, you are forcing yourself to make decisions by being DELIBERATE with what goes back in that drawer, shelf or cup.
R. Repurpose, Reuse, Recycle.

One of the many benefits to decluttering and organizing your space is that you can take any item and decide to repurpose it, reuse it (now that you found it again!), or recycle, as in donate to a charity. In this way, you get a new appreciation of "letting go" and doing so that benefits yourself and others.
T. Transformation.

By taking on these simple yet effective steps, you will undoubtedly experience a "shift" in your environment, a shift in your relationship to your surroundings, a shift in the lightness of letting go, and a realization that keeping order is a refreshing, new habit that helps you focus on other chores, other priorities, without the distraction of a pile of laundry in the living room. Or that pile of old mail and magazines stacked up on the dining room table. Or, or, or… TRANSFORMATION occurs when you've allowed yourself to let go, to free yourself from items, memorabilia, collections, and stuff that no longer serves you.
TRY IT ON YOUR OWN, and if you need assistance, simply call me for a free consultation by phone. Together, we can handle just about any chaotic crisis of TMS* (Too Much Stuff) that you may be experiencing. Together, we can prevail, take charge, and set up a S.M.A.R.T. System just for you and your cluttered spaces.
Remember… Clear the Clutter…Clear the Mind ™