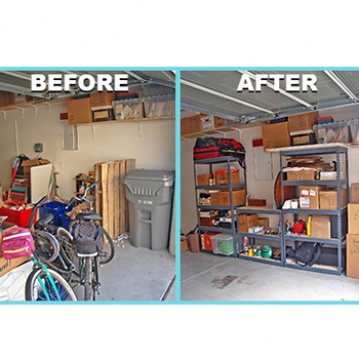 Father's Day celebrates the love for our Dads. Dads get to glow every June for a day (at least!) This year be sure to get pampered on this auspicious holiday.
One of the best things your family can do for you after:
1. Breakfast in bed
2. A round of golf

3. Lunch at the club,

4. Chartering a yacht

5. Luxuriating with family is to give the gift of clarity. That's right, clarity.
I'm speaking of the "Clutter to Clarity"dynamic. There's one room in most homes that exudes "Dad energy" and that area is called the garage! (aka storage area, dump zone, resting place for old cardboard, etc.) The garage is our focus this month in honor of Fathers everywhere that tinker, collect, work or just park their vehicles in the garage (if even possible).
As a professional organizer and chief clutter clearing officer (CCCO), I find all too often that the garage is neglected, taken for granted, even abused with clutter.
This Father's Day (all month long, really) I recommend some TLC for the TMS (tender loving care for too much stuff!) Here are my top tips for clearing your garage of clutter.
1. Put on some good tunes, and turn this project into a fun adventure.
2. Start in a corner by the garage door and remove those spare parts wood/metal posts, fishing poles, rakes and such. Start there and sweep the floor area clean.
3. Keep identifying items as KEEP or DISCARD and remove them. Discard can be a giveaway, a donation, or a throwaway.
4. Once you get some momentum, you'll find that first wall is exposing things you no longer need, and the donation/discard piles begin to add up.
5. Consider keeping gas products, oils, cleaning supplies, and fertilizers as far away from the interior door as possible. Keep these items sealed so there's no off-gassing of harmful fumes.
6. Consider the interior entry as your "Palace Gate," your garage entryway into your beautiful home. Using Feng Shui principles, OPEN this space, remove obstacles like shovels, mops and insecticides, and instead design a clear path into the home for optimal chi (life energy).
7. If you are collecting old boxes of papers, magazines, newspapers and books, now's as good a time as any to look, scan, and dispose of these bugharboring items.
8. Clear plastic bins can replace decrepit, peeling cardboard. Saves your contents from excess humidity, bug infestation, and preserves document longevity.
9. Once you've worked your way around the perimeter, you should be noticing available space to help clear out the excess piles, or towers of "things" in the center. Consider designing shelves or cabinets now for an even better organized look.
10. When all is said and done, depending on your initial clutter density, your garage can be decluttered and organized in one day. Haul the trash to the curb, give away good stuff you no longer need, and keep your treasures safe and appreciated for years to come.
If you would like assistance, have a question, or just want me to do this for you, I'm available. Call 561-706-7779, email david@aplusclutterclearing.com or visit me at aPlus-ClutterClearing.com. Happy Father's Day to you!!!
Clear the Clutter…Clear the Mind™